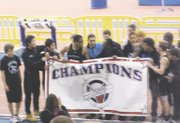 Ever since last spring when the Centreville High boys' track and field team fell just two points short of capturing the Concorde District outdoor crown outright, the Wildcats have been especially focused on garnering a championship.
And last Thursday, Feb. 4, the motivated, determined Wildcats realized their goal when they earned the title of co-district indoor season champion with Robinson. Both Centreville, under head coach Givon Holmes, and the Rams finished the two-day event with 108 points. And while the Wildcats certainly would have rather won the title outright, they were still thrilled to have gotten a piece of it.
"In the spring we lost the title by one point to Oakton," said Kelley Devlin, a Centreville assistant coach. "So we certainly are happy to have the [indoor] title and to share it with Robinson."
The two-day postseason event, held at Prince George's Sports and Learning Center in Landover, Md., began on Jan. 28 with preliminary events. The second and final day of action took place a week later on Feb. 4 with event finals.
While Centreville and Robinson shared the championship, Chantilly (91.33) took third place and Herndon (67.66) was fourth.
At districts, the top three relay teams automatically advanced to the upcoming Northern Region Championships, which will take place on Feb. 20 at George Mason University. Also, the top six finishers in individual events at districts qualified for regionals.
Centreville, in winning the district boys' indoor crown for the first time since 2007, had numerous outstanding showings at the postseason meet.
One of the best outings came from long distance running sensation Yazid Zouaimia, a senior who has committed to run collegiately next school year at Virginia Tech. Zouaimia won both the mile and two-mile events at districts, finishing ahead of Chantilly's Christopher Foley in both races. Both Zouaimia and Foley are nationally ranked high school runners.
Last winter as a junior, Zouaimia finished sixth in the one-mile race at the Northern Region Championships before finishing 10th at states. Devlin said the 12th grader runs with passion and determination.
"He is tough as nails," she said. "He's just a strong, motivated individual. He puts it out there and is very driven and gutsy."
Devlin, currently in her second year at Centreville after having been the co-head coach at Robinson for six years, said Zouaimia was thrilled to receive a partial scholarship to Virginia Tech.
Centreville, at districts, also had a two-event champion in senior Paul Barbour, who won both the long and triple jumps. Barbour bested runner-up Enoch Cha of Robinson in the long jump, and finished ahead of Chantilly's Arthur McDuffy in the triple jump. Barbour was also third in the 500.
Senior Terrance Kennedy placed in four events. He was second in high jump, fourth in long jump, fourth in the shot put and fifth in the 300. Another senior, Mattson Heiner, was second in the 1000 race and fourth in the 1600.
Other place finishers for Centreville were: junior David Choi (5th in 55 hurdles); senior Chris Mbaidande (2nd in 55 dash); and senior Joey Hannah (6th in 1000).
The Centreville boys' 4x800 and 4x400 relay teams both finished first.
The Centreville boys have numerous seniors, a solid level of talent across the roster and a good work ethic. And this winter it all added up to a district championship.
"It's a really talented group with a lot of seniors who have been with the program so many years," said Devlin. "They were really excited to bring a title to Centreville."
The Wildcats will look to keep things rolling at regionals next week.
"We can certainly look for a top three [team] finish," said Devlin, who said the Wildcats have a team-first mentality and approach to competitions.
<b>THE CENTREVILLE GIRLS</b> finished sixth at districts. Senior Katie Bannon won the pole vault event, finishing ahead of Chantilly's Nina Ullom.
The Wildcats' other place finishers were: junior Kelsey Kallapos (5th in triple jump); senior Solange Duong (4th in 55-hurdles); sophomore Haley Anderson (4th in the 1000); senior Katie Hickey (5th in 1000); junior Jessica Mejia (5th in 300); and junior Juli Cuono (4th in 3200).
Centreville's 4x800 girls' relay team captured first.
<b>FOR THE WESTFIELD GIRLS</b>, who finished fourth in the district, senior Kaylin Newman earned a championship in the shot put event, finishing ahead of Robinson's Chioma Onyekwere.
In the 55-hurdles race, Westfield seniors Rachel Dillon and Leigh Serroka finished first and second, respectively. Dillon was also third in triple jump and fourth in long jump.
Senior Emma Stewart was third in pole vault and fourth in triple jump. Other place finishers for the Bulldog girls were: senior Elizabeth Reilly (5th in pole vault); senior Leah Carroll (6th in 1600, 6th in 3200); senior Rachel Hohman (6th in 500); and sophomore Amanda Cameron (3rd in 1000).
For the Westfield boys, senior shot putters Zachary Stickles and Alex Falcetti finished second and third, respectively, behind first place finisher Kirk Nguyen of Herndon.
Other place finishers for the Bulldog boys were senior Jordan Lehman (6th in 55 dash) and senior Taylor McGough (4th in 1000).