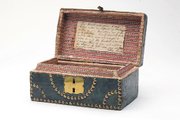 Beginning Feb. 13, Historic Mount Vernon hosts a special new exhibition, Bringing Them Home: 150 Years of Restoring the Washington Collection. Organized in honor of the sesquicentennial of the opening of Mount Vernon to the public in 1860, Bringing Them Home celebrates the Mount Vernon Ladies' Association's 150-year pursuit of original Washington artifacts. Widely dispersed after George and Martha Washington's deaths, these items — which include examples of fine and decorative arts, books, and manuscripts — enrich our understanding of the Washingtons and their daily life at Mount Vernon. Nearly 150 objects will be on view, most are being publicly exhibited for the first time and many have not been at Mount Vernon since the Washingtons lived here. Bringing Them Home tells the tale of how objects have returned to Mount Vernon. The exhibit is in the F.M. Kirby Gallery in the Donald W. Reynolds Museum.
"I can't think of a better way to observe this anniversary than to celebrate Mount Vernon's incredible collections," said Mount Vernon's assistant curator, Laura Simo. "By exhibiting so many never-before-seen Washington objects we hope to recognize and honor the extraordinary dedication of the Association, Washington family descendants, and the public — past, present, and future — to upholding the Washingtons' memory. In addition, our guests frequently ask 'Where do Mount Vernon's objects come from?' Each of our objects has its own history to tell, and this exhibition reveals the amazing journeys many have traveled as they returned to Mount Vernon."
Highlights of the show include several recently discovered objects long thought to have been lost or whose very existence was not known. A silver bottle roller possibly designed by Washington himself while president was previously known only from a 19th-century engraving. Descendants of Robert E. Lee found it in 2007 while cleaning out old trunks filled with family possessions. It is believed to be the only one of its kind in existence today. A French porcelain sugar bowl grabbed curators' attention after its last private owners, who are related by marriage to the General's step-granddaughter, Nelly Custis Lewis, emailed them an image of the object. Mount Vernon staff immediately recognized its decoration and marks as being from a service made expressly for the Washingtons and presented to Martha Washington at Mount Vernon in 1782. The matching cream pitcher, which Mrs. Washington had given to Dolley Madison, was purchased by the Association in 1941.
Simo has been working with costume historians to recreate the bodice of a gown worn by Martha Washington based on eight fragments of silk dating to around 1765-1770. Two of the pieces form the buttoned front of the bodice, while another turned out to be a sleeve. Painstaking examination revealed barely visible stitching lines where seams and ornate trimmings once were.
"Very few intact garments belonging to Martha Washington survive because her descendants cut them apart to cherish as small tokens of remembrance," said Simo. "So to see how these pieces fit together and to bring such a personal object as one of her gowns back to life is really an incredible experience."
Bringing Them Home: 150 Years of Restoring the Washington Collection will be on display in the Donald W. Reynolds Museum through January 8, 2012.