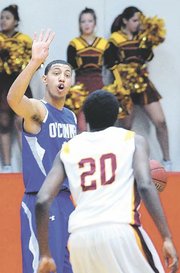 Bishop O'Connell boys basketball coach Joe Wootten pulled Kendall Marshall into his office, congratulated the standout point guard and handed him a packet.
Marshall opened the packet, smiled and called his father.
The message inside the packet: Marshall is a McDonald's All-American.
Marshall will suit up for the East team after being selected to play in the boys McDonald's All-American Game at 8 p.m. on March 31 in Columbus, Ohio. Marshall is one of 24 athletes to receive the honor, which is bestowed upon the top prep seniors across the country. The game will air live on ESPN.
"It means a lot to me," Marshall said. "It's one of the most prestigious awards you can receive. For me to be picked, it's a special feeling."
The 6-foot-4 Marshall signed with the University of North Carolina as a sophomore. He is the No. 22-ranked recruit in the class of 2010 and the No. 6 point guard, according to ESPN.com.
"I can't remember a practice where he hasn't worked his tail off," Wootten said of Marshall last month. "He enjoys passing the ball, which I think is something that any great point guard does — they enjoy seeing someone else find success. … He's a great kid off the court. He's the type of kid you want to be around."
The Dumfries native garnered media attention early in his career when an editor of an online publication rated Marshall as the best sixth-grade basketball player in the country. While recognition is nothing new to Marshall, he said being named an All-American ranks near the top of honors he's garnered.
"There are things you always dream about growing up," Marshall said. "Getting a college scholarship [is one]. … At the high school level, [players dream about] being a McDonald's All-American."
More than 750 male athletes have competed in the McDonald's All-American Games since 1977, including former and current NBA stars Magic Johnson, Reston's Grant Hill, LeBron James, Dwight Howard, Carmelo Anthony and Kevin Durant.
Washington-Lee High School's Crawford Palmer was selected in 1988.
Marshall is the only player from Virginia to be selected in the class of 2010. What did his dad think of the news?
"He was happy," Marshall said, "because he knew how bad I wanted it."