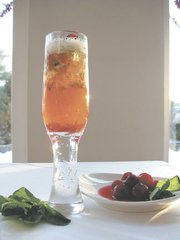 The George Washington Birthday Celebration Committee announces the winners of its second annual "Cherry Challenge".
"Even though the snow forced us to cancel many of our other major events, this event was able to go on as scheduled, and provide a fun event for both the participating restaurants and their patrons," said Sharon Sobel, committee vice-chair.
The Cherry Challenge took place during the week of Feb. 1-7, in 12 Alexandria restaurants, and featured cherry-inspired dishes created by the restaurant chefs.
Participating in this year's contest were Brabo, Fontaine Caffe and Creperie, Indigo Landing, King Street Blues in Old Town, Layla's Lebanese Restaurant, Murphy's Grand Irish Pub, Rampart's Tavern and Grill, Seagar's (Hilton Old Town), Shooter McGee's, St. Elmo's Coffee Pub, Union Street Public House and Tempo.
Two of the restaurants are two-time winners. Murphy's duck entrée also took best entrée last year, and Tempo also won last year in the drinks category, for their dirty cherry martini. Ramparts and Fontaine are new entrants this year.
Each person who ordered the dish or menu item was supplied with a ballot so that they could judge the menu item on taste, presentation and creativity. Scoring was done by rating both the number of ballots submitted, and how each dish rated in the palates of the citizens who ordered the items. This helped even the playing field when some restaurants didn't get as much business during the Cherry Challenge week as they expected, due to the snow.
However, Tempo Restaurant had far and away more ballots submitted than any of the other restaurants, with at least 20 ballots submitted per item. They featured items in three of the categories available. Wendy Albert on her Cherry-Mint mojito said: "I think that it will become a permanent cocktail in our restaurant as the Dirty Cherry Martini from last year did. People loved it!"