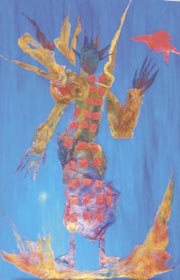 The following events and exhibits are open at the Workhouse Arts Center, which is located at 9601 Ox Road, Lorton. For more information, call 703-495-0001 or visit www.workhousearts.org.
Opening Exhibition: 6 Abstract Women as part of Minds Wide Open: Virginia Celebrates Women in the Arts. Award-winning abstract artists Andrea Cybyk, Marcia Dale Dullum, Michele Hoben, Joyce McCarten, Jan Sherfy and Roberta Thole exhibit their work March 3-28, in Gallery W-16. An opening reception is March 7, 2-4 p.m.
Artnotes presents Paul Reisler and Terri Allard, Saturday, March 6, 7 p.m., at Gallery W-16, second floor. Reisler [www.paulreisler.com] has created a direct and emotional music that cuts across borders — combining folk roots, world music eclecticism, classical precision, and new age mysticism with the vitality of contemporary music. Allard [www.terriallard.com] offers power-packed vocals and infectious energy. The Virginia based singer-songwriter has taken her rootsy blend of folk, country and acoustic pop to countless clubs, coffeehouses and festivals throughout the United States. Tickets: $15-25.
CrossCurrents Dance Company [www.crosscurrentsdance.com] returns to the Workhouse on Sunday, March 14 at 3 p.m., for a Stars on Sunday performance in Gallery W-16. Free tickets are available online, by phone or in person. Reservations recommended. Tickets may be claimed at Will Call beginning March 14, at 2:30 p.m. Light fare and cash bar available.
Stars on Sunday: Ericka Ovette. Sunday, March 14, 6 p.m., Gallery W-16, second floor. Ovette has performed in various area restaurants and cafes including return engagements at Blues Alley, D.C.'s premier jazz club. Cash bar and light fare available for sale. Tickets $15-$25.
Gallery After Hours: Tom Teasley. Saturday, March 20, 5 p.m., at Gallery W-16, second floor. Teasley offers a hands-on percussion workshop at 5 p.m. followed by a performance at 7:30 p.m.
Workhouse Ceramics Visiting Artist Exhibit. The Workhouse will exhibit work by internationally acclaimed ceramic artist Mitch Lyons March 19-April 18, in Gallery W-16, second floor. Opening reception is Friday, March 19, from 7-9 p.m.
European Impressions: Pastel Paintings by Carol Iglesias. March 10-April 4 in Studio W-4. Reception on Saturday, March 13, from 6-9 p.m., in the Gallery of Studio W-4. For more information contact Iglesias at 540-419-5267. http://caroliglesias.com.
Building W-6 Featured Artist: Lois Salazar, who presents painted silk paper collages of the spirit world in an exhibit titled, "Conjure and Dream." Studio Fiber Arts will present works on the theme "Inspiration from the Garden." Building W-6 also welcomes two new artists' Patty Rice and Terri Anstrom. Rice, Anstrom and the other artists will show new works in the Building W-6 Gallery. The opening reception is part of the Second Saturday Art Walk, March 13, from 7-9 p.m.
Building W-9 Featured Artist: Jeanne Treschuk. Dramatic, graphic florals on bold backgrounds painted in acrylic and mixed media on canvas will be on exhibit from March 10 through April 7. Visit Treschuk's Studio 911 during the Workhouse Second Saturday reception, March 13, 7-9 p.m.
Building W-10 Studio Exhibition: "Bad Hatter" Tea Party. The AIM Gallery exhibition runs March 14-April 4. The "Bad Hatter" Tea Party is Sunday, March 14, from 2-5 p.m. Wear a hat and even gloves, and meet the strong and diverse artists of AIM Gallery for their first "Bad Hatter" tea party. Enjoy a cup of tea, treats, share stories and discover what this group of artists and their gallery are all about. AIM Gallery features artwork of oils, acrylics, gouache, mosaics and colorfully painted teapots. Painting and mosaic demonstrations are included: "Color Journey" with P. Delia Chisholm, 2-3 p.m.; and "Magical Mosaics" with Anita Damron, from 3-4 p.m. For more information, contact Livingston Rodgers at livrodgers@msn.com.
More like this story