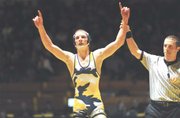 Standing on the mats at the Virginia State AAA wrestling finals Robinson Secondary School sophomore Jacob Crawford glared at his opponent in the 130-pound weight class.
Wearing a yellow, blue and white camouflage wrestling outfit, his intimidating body language and attire suggested this match was part of a greater mission.
"My goal since eighth grade has been to be a four-time state champion," said Crawford who, as a freshman, won a 2009 state title while attending Millbrook High School, an AA program, in Winchester.
He got his chance on Feb. 20 as Robinson played hosted to top wrestlers from around the state.
As the match began, Crawford and Michael Chaifant of Frank W. Cox High School in Virginia Beach locked up and each struggled to gain an upper hand. Crawford wrapped up Chaifant for a takedown, but the Cox wrestler escaped, setting the score at 2-1 after the first period.
"In the first period, he almost took me down," Crawford said. "I got it into my head to keep going and to keep the pressure on him."
With the home crowd's encouragement, Crawford spent the final two periods controlling his opponent, racking up points and keeping Chaifant from threatening his lead.
Crawford won the bout by a score of 6-2.
After the match, Robinson wresting head coach Bryan Hazard lifted his wrestler off his feet with a victory hug while cheers from the home crowd rained down on Crawford.
"It's a great feeling to be at home and have the home crowd rooting for you," Crawford said. "It definitely helped me pull through and achieve my goal."
Crawford's win would be the only state title win for the Rams, who placed second overall at the state tournament.
"You don't see very many [two-time champions]," Hazard said. "You don't get to be with many in your life. He's special."
Hazard said that he knew he was coaching a special talent when Crawford transferred to Robinson prior to the 2009-2010 season.
"You can push that kid as hard as you need to, and then he just wants more," Hazard said. "He's everything you want in an athlete."
After winning his second state title, Crawford didn't take long to savor the win. Instead, his thoughts turned to the next state title attempt.
"I'm going to improve in every position out on the mat," he said. "If I work as hard as I can, hopefully I can achieve my goal."
Robinson's accomplishments didn't stop with Crawford. The Rams are the first Northern Region team since Centreville in 1994 to place second at the state meet. Cox High School took first place and the state title.
"We wanted to win it," Hazard said. "But it's nice [to get second]. It's nice to come out of here with some hardware."
Hazard the short break between the Northern Region tournament, which finished on Feb. 17, and the start of the state finals on Feb. 19, as a possible factor in Robinson second-place finish.
"It is really hard to cut weight for six days," he said. "Then you have to come back and wrestle with emotion for [two days]."
Robinson's Dallas Smith also competed for a state title in the 103-pound weight class. Deep Run's Kasey Early defeated Smith 8-3 in a match where Smith found himself trailing 5-3 after the first period.
'I just didn't wrestle as well as I planned and gave up a bunch of points early," Smith said.
Despite the loss, Hazard raved about Smith's future with the Robinson team.
"He's a stud," Hazard said. "He works his butt off. I thought he had the match, but sometimes you bite the bear and sometimes the bear bites you."