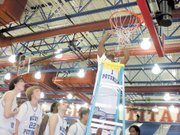 One year ago, the West Potomac boys' basketball team mired in seventh place in the Patriot District with their names far from any basketball title discussion.
Senior forward Martez Redfearn said he knew his team had the talent to compete with the district's best, but few believed the Wolverines would be a factor in the Patriot District title picture.
"A lot of people had doubts about us," he said.
On Monday at T.C. Williams, the Wolverines silenced their critics and won their first Patriot District title since 1996 in a 70-67 overtime thriller with W.T. Woodson.
Junior guard Daryl Copeland scored 24 points and Redfearn added another 21 to help clinch the title.
"To go from seventh place last year to winning the district championship is special" head coach David Houston said. "I'm very proud of them."
An inspired first half helped the Wolverines jet out to a comfortable 37-28 lead, but Houston prepared his team for a second-half surge from Woodson, a team known for tenacious second half comebacks.
"We knew it wasn't going to be easy at halftime," Houston said.
Led by Max Lenox's 28 points, Woodson closed the gap on West Potomac, tying the game at 59 and forcing an overtime period.
The Cavaliers' comeback didn't rattle the West Potomac players, and Redfearn said it motivated him as the overtime period began.
"The game is not over until the clock hits zero," Redfearn said. "I knew we could get back in the game. [Woodson] got back in the game, so could we. All it would come down to was hitting free throws."
As Woodson fell deeper into foul trouble, the Wolverine shooters sank their free points and extended their lead in overtime, putting victory just out of the Cavaliers' reach.
The clock ticked away the final moments of the game, and then, celebration. West Potomac's 14-year title drought had ended.
"It's unbelievable," Houston said. "We had a group of guys who didn't want to be last any more, and they did it."