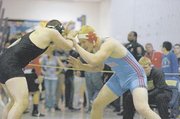 The Westfield High wrestling team captured the Northern Region championship last week. The annual postseason event took place Feb. 16-17 at Fairfax High School. The Bulldogs won the title with 345.50 points, finishing ahead of second place Robinson (286).
Finishing third was Centreville High (126), followed by fourth place Woodson (123) and fifth place Langley (121.50). Other strong team showings at the 31-school meet came from Marshall (8th place), Chantilly (10th), McLean (14th) and South Lakes (tied for 18th).
Westfield High had four wrestlers capture titles and four more finish second. Bulldog champs were: Kyle Arnold (140 weight class), Kevin Koch (152), Austin Fallon (189), and Tyler Deleon (heavyweight). Other local individual champions included Madison's Albert Schultz (125) and Marshall's Andrew Embree (215).
Madison's Schultz, at the 125 finals, was a 4-0 winner over Westfield's Dennon Carranza-Kee. At the 140 finals, Westfield's Arnold bested Robinson's Charlie Vannoy, 3-2. At 152, Koch defeated Robinson's Ben Stallings in overtime, 2-1.
Fallon, the Westfield 189 standout, defeated Marshall's Mark Bergenholtz, 7-2, in the championship match. In the 215 finals, Embree of Marshall was a pin winner over Lee's Steven Lucynski. And at heavyweight, Deleon of Westfield was a 5-1 finals victor over West Potomac's Sami Ahmady.
Westfield 's Brett Campbell finished second at 103 weight class, falling to Robinson's Dallas Smith, 1-0, in the finals. Other Bulldogs who finished second were: Stephen Aiello, who reached the 112 finals before falling to Annandale's Dane Harlowe by major decision; Beau Donahue, who lost to Robinson's Roman Perryman, 8-4, in the 135 finals; and Nick Grinups ,who lost a tough 4-3 decision to Lake Braddock's Ross Renzi in the 160 finals.
Westfield's Harry Van Trees finished third at the 145 weight class, defeating Lee's Omar Ezzeddine, 4-2, in the consolation finals.
Other place finishers for Westfield were Dylan Doty (4th at 171) and Karl Tanner (4th at 119).
McLean High's Ethan Arkin finished fourth overall at the 130 weigh class. Also for the Highlanders, Billy Dvorkin finished fourth at 189.
Langley's Aaron Sahm finished third at heavyweight, winning by forfeit over Yorktown's Charles Whelden in the consolation finals.
From South Lakes, Ryan Forrest garnered a third place finish in the 135 weight class by defeating Centreville's Ricky Williams in the consolation finals.
Chantilly's Jack Carlson went all the way to the 145 finals before losing a close 5-4 decision to Robinson's Mickey Bennett.
For Centreville High, Martin Seneca made it to the 171 finals where he lost to Annandale's Stacey Anderson, 9-4.
Centreville had two third place finishers: Jackson Islin, who pinned Mount Vernon's Dusty Floyd in the 140 consolation finals; and Daniel Johnson, a 3-1 overtime winner over Westfield's Rapheal Bamezon in the 215 consolation finals. Also for the Wildcats, Ricky Williams finished fourth at 135 weight class.