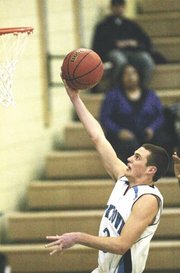 <b>Yorktown Boys Lose 2 of 3</b>
The Yorktown boys basketball team lost to Mount Vernon 64-51 on Friday and Falls Church 69-57 on Wednesday and beat Oakton 44-39 on Tuesday. The Patriots' record dropped to 5-7 overall, 1-3 in the National District.
Yorktown faced Hayfield on Tuesday. Results were not available before the Connection's deadline.
Mike Veith was the Patriots' top scorer through 12 games, averaging 14.3 per contest. Jack Earley is the only other Patriot averaging double figures at 13.5 per game.
Yorktown travels to face Stuart at 7:45 p.m. Friday.
<b>Yorktown Girls Lose to Defending District Champ</b>
The Yorktown girls basketball team lost to defending National District champion Mount Vernon 63-44 on Friday. The loss came two days after a 58-12 win over Falls Church and three days after a 58-46 loss to Oakton.
The Patriots were 4-7 through 11 games. Yorktown faced Hayfield on Tuesday. Results were not available before the Connection's deadline.
Yorktown hosts Stuart at 7:45 p.m. Friday.
<b>Yorktown Swim Teams Remain Undefeated</b>
The Yorktown swim and dive teams returned to action and both improved their records to 5-0 by defeating the Falls Church Jaguars on Friday in dual meets held at Yorktown Pool. The boys won a tightly contested meet 97-89. The girls won 125-61.
Angus Moloney won the dive event for the boys with a region-qualifying score and a 1-2 finish in the 200 medley relay gave the boys an early lead. The winning medley relay included Jimmy Linek, Greg Crosswell, Matthew Essig and Fabian Propers. Falls Church fought back with individual event victories in the next five events to hold a slim four-point lead after the 100 freestyle. The Yorktown boys rebounded with victories in the next four events to regain control and clinch meet going into the final event. The surge was led by event victories by Will Tarkenton (500 free), the 200 Free Relay team (Connor Healy, Wren Rudolph, Propers, Essig), Essig (100 backstroke) and Crosswell (100 breaststroke).
The girls won eight of the 12 events, including two relays and had three sweeps (200 free, 50 free and 500 free). Mason Nassetta provided the first victory in the dive event. Stephanie Romano was a double winner (200 free, 500 free) while leading two of the sweeps. The other individual event winners were Annemarie Wamsted (200 IM), Ann Carpenter (50 free) and Kaitlin Wolla (100 fly). First place relays were: 200 Medley Relay (Abigail Young, Abigail Ortmayer, Wolla, Carly Hinkle) and 200 Free Relay (Kerry Sutherland, Hinkle, Wolla, Ortmayer). Region-qualifying times were achieved by the 200 Medley Relay, Romano (500 free), Wolla (100 fly) and Amanda Didawick (100 fly).
Yorktown faces its county rivals in their next two meets. The Patriots host Wakefield on Friday. This will be senior night for Yorktown. The dual-meet season concludes on Jan. 22, when Yorktown travels to Washington-Lee.
<b>Umpires Needed</b>
Northern Virginia Baseball Umpires Association (NVBUA) is in need of officials for baseball and volleyball. Umpires are needed for colleges, men's leagues, high schools and youth recreational leagues. Experience is helpful but not required. Formal classroom and on-the-job training will be provided. Classes will begin in mid-February. Umpires are needed for all communities in the greater Washington D.C. Metro area. Support your local community's sports leagues by signing up. Call Ken Williams (703-400-3232) for more information or go to umpires.org to fill out a "New Ump" form.
<b>Umpires Needed for Adult Slowpitch Softball</b>
Fairfax Adult Softball (FAS), the largest softball organization in the area, is seeking umpires for its adult slowpitch softball leagues in Fairfax County. Umpires' net pay starts at $25 per one-hour game and they are paid monthly. Experience is desired but ASA training is provided beginning early February. Flexible scheduling is based on availability. Contact FAS at 703-815-9007 or e-mail to: office@fairfaxadultsoftball.com.
<b>NoVA Flash Softball Looking for Players</b>
The NoVA Flash, a 14U fast-pitch girls softball travel/tournament team, is looking to add a few committed players from the Northern Virginia area for the 2010 Spring-Summer season. Formed late last summer, the Flash participated in four tournaments during the Fall 2009 season, compiling a record of 12 wins and 7 losses, with one second place tournament finish. The team is looking for at least one additional pitcher to augment its current staff, as well as defensive players with solid skills and strong bats. The Flash uses practice fields in the McLean area. Players, 13 or 14 years old as of Dec. 31, 2009, who are interested in learning more about the NoVA Flash or arranging a tryout during our Saturday afternoon winter batting practices, should contact Coach Mike Wheat at wheatsbaseball@aol.com, or by calling 703-966-3805.