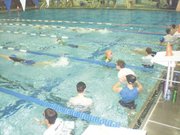 Before taking a leap into the pool for practice on Jan. 11, members of the West Springfield swim team take a second to make adjustments to their attire.
Check the goggles for fog, make sure the swimsuit is tied on and be sure to have a full set of clothing on.
"We've been wearing clothes in the pool and it's helping us get faster," senior Briana Rinaldo said. "It's a more difficult workout, but it's making us stronger."
So how does clothing make a swimmer more effective in the pool?
"It's building a natural drag," Head Coach Karen Spooner said. "We don't have all the equipment that bigger clubs have, so we're using [clothes] to create more resistance in the pool."
That's not to say the Spartan swim and dive team doesn't have equipment it could use, but the minimalist approach is part of a learning process for Spooner's team.
"We have kickboards and other equipment," she said. "But I wanted to teach the kids they don't need fancy equipment to get a good workout."
The workouts don't just feature shirts and shorts.
"At one point, we were wearing gloves in the pool," senior Cort Rusliton said. "That made a huge difference. It was so much harder than you would think."
The sight of a swim team clothed in T-shirts and mesh pants attracts attention from other teams practicing at the Audrey Moore Recreation Center in Annandale, but the swimmers say the training is working.
"You can feel the impact of the training when you don't have [clothes] on in the pool," senior Captain Ryan Scholobach said. "Your muscles don't get as tired quickly. You feel faster."
The new training techniques aren't the only reason the team is enjoying success. An infusion of young talent has helped, as well.
"We've got really good depth this year," Scholobach said. "We have a lot of good freshmen, and younger swimmers make up most of the team."
With a young roster, the Spartans are hoping the development of freshmen swimmers will help make waves in the Patriot District for years to come.
"The team is very young, and I think we can be good for quite a few years," Rusliton said.
Another element to the team's success is the strong leadership of captains Scholobach, Rusliton, Rinaldo and Sean Nickley.
"The seniors have grown up with getting beat by Lake Braddock and have grown up in [the strong Patriot District]," Spooner said. "They have the spirit of a bonding unit and are very unified with the team."
Nickely said the senior leaders are using their experience with tough competition to help the younger swimmers deal with the district's competitive nature.
"We're a very supportive team," Nickley said. "We're always working together. We have a lot of teamwork and I think it helps us in meets."
With meets against W.T. Woodson and Lake Braddock before district competitions at the end of the month, Nickely said he's preparing his team for a tough week of competition and practice.
"Two of our toughest meets are coming up," Nickley said. "So we know [Spooner] will be stepping up practices even more."