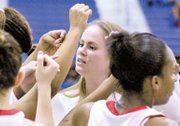 T.C. Williams girls basketball coach Cavanaugh Hagen wants to win. She understands, however, if this season's Titans take time to jell after the losing all five starters, including All-American Tierra Ruffin-Pratt, from last season.
What Hagen won't put up with is a lack of effort. The coach reminded her team of this Tuesday as a frustrated Hagen vented to the Titans at the end of practice.
"Something has to change," Hagen said of her message to the Titans. "The work ethic has to get better. The attitudes have to get better."
T.C. Williams is off to a 3-8 start, including a 1-4 mark in the Patriot District. The Titans have dropped four of their last five games and seven of their last nine. T.C. Williams lost to South County 52-31 on Monday, to Woodson 52-46 on Saturday and beat Lake Braddock 42-38 on Friday.
The Titans went 24-6 last season — Hagen's first as head coach — and went to the state playoffs. This season, players have yet to develop cohesiveness on the floor.
"Our record doesn't speak for our capabilities," junior Rainie Summa said. "I think [Hagen is] just disappointed in us. She's yelling because she expects more out of us. We should be playing better. … We're just kind of having a problem getting chemistry built but it's going to come. Sooner or later it just has to come. There will be a game [when it comes] and hopefully that will be [against] Lee."
T.C. Williams hosts district opponent Lee at 7:45 p.m. Thursday.
Hagen told the Titans they need to pick it up on the defense end.
"We just need to take pride in our defense," said junior Jasmine Norman, the team's top scorer and rebounder. "That's our biggest problem."
T.C. Williams travels to face Woodson on Friday and West Potomac on Tuesday. Hagen said the Titans need to make something happen if things are going to improve.
"The kids have to realize when we call them out it's not because we don't like them. It's nothing personal," the coach said. "It's because we want to see them get better. We see the potential in where they could be and they're not peaking at it. … They say they're frustrated because they're losing. Well, you have to change something. You can't just keep going through the motions. If you have to ask yourself if you're giving 100 percent, then you're not."