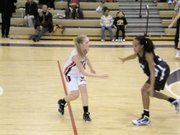 The W.T. Woodson girls basketball team has at least one clear leader on the roster — senior guard and Boston University recruit Melissa Gallo. But playing the role of understudy, ready to inherit 2010-11's team, is junior Taylor Hayes.
"[Hayes] has taken over as the point guard this year," Head Coach Pat Neri said. "And she's really turned into a great floor leader as well."
With the new position and a new leadership role in waiting, Hayes is already beginning to assume duties that would be expected of her next season.
One of them is taking control of the court and setting up plays to feed the Cavaliers' offense.
During Woodson's 42-29 loss to South County on Jan. 8, Hayes would often glance at Neri and receive a play to run, just like Gallo does.
"[Hayes] knows the offenses, knows how to get into them and run them," Neri said.
Although 2010-11 might not be soon enough for the tenacious point guard, Hayes is growing accustomed to her new role.
"I'm excited [about being a leader]," she said. "I've learned from [Gallo] and I hope that next year I can be the same type of player for my teammates."
Hayes' new role on the team hasn't gone unnoticed by younger players. Freshman Keara Finnerty said the dual-leadership is a bonus in the locker room.
"I'm learning a lot from [Hayes and Gallo] as leaders," she said. "They know how to pick up the team and they're great role models."
While the ultimate goal is to transform the junior into the team's commander on court next season, Neri said Hayes' value also comes in her scoring ability as a point guard.
"She's giving us scoring from a position that we haven't had [scoring] from before," he said.
So far this season, Hayes has racked up 133 points for the Cavs, including a season-high 22 points against Centreville on Jan. 5.
"We've had good point guards before," Neri said. "But we haven't had one who is as much of a scorer. It gives us a whole new element in our offense."
Although the loss to South County cooled down Hayes' hot-streak, the junior said her recent performances might help spur other players to post stronger games.
"The team feeds off every other player's confidence," she said. "If the entire team has confidence, then we'll be rolling."
Woodson's next game is on the road at West Potomac on Jan. 14, followed by a home game on Jan. 15 against T.C. Williams. The Cavaliers are currently 8-4 this season.