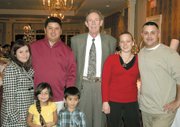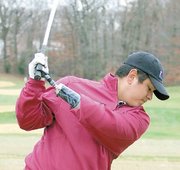 On a chilly late fall day at Mount Vernon Country Club, PGA golf professional Al Fenstomocher studied his student's golf swing for a few minutes. Posture and balance looked good, so did the take away, downswing, and follow-through. Fenstomocher was concerned about the grip, though. But considering the player had lost his left hand to a rocket-propelled grenade in Afghanistan, Fenstomocher decided that the grip was actually pretty darn good.
Ramon Padilla and two other wounded warriors worked on their game at Mount Vernon's practice range while Fenstomocher rotated between them. The PGA of America arranges for Fenstomocher and other area pros to give free golf lessons to veterans with disabilities.
As Padilla addressed the ball, he slipped the grip of a 7-iron into a special device at the end of the prosthesis on his left forearm. He then placed his right hand on the club with about the same overlapping grip that most golfers use.
Fenstomocher explained that Padilla and every golfer should rotate his hands through the impact point, thus "releasing" them from the cocked position at the top of the backswing. It is remarkable that Padilla is accomplishing this part of the golf swing with a mechanical device instead of his left hand. It's not surprising to Padilla, however, because the former soldier helped design the prosthetic.
Padilla, 34, is a California native who recently retired from the Army with 100 percent disability. His multiple wounds in July 2007 sent him to Walter Reed Army Medical Center in Washington, D.C. for extended rehabilitation. His wife and their four children joined him for his two-year recovery, and they bought a home in Waldorf in November.
A good high school athlete, Padilla had not played golf until he joined other disabled veterans at Walter Reed in exploring the game. They have met a warm welcome, as it seems the entire Washington area golf establishment has reached out to help the wounded warriors. Mount Vernon is no exception, and club president Bob O'Toole welcomes the chance to help.
"We're honored to have them as our guests," he said.
"I really love the game," Padilla said during lunch in Mount Vernon's grill. "It's great to get outside on the golf course and forget about the grind. I feel a sense of peace while playing, even after a bad shot."
Padilla found golf through the Salute Military Golf Association, a Washington-based nonprofit organization. SMGA works to introduce combat-wounded veterans to the mental and physical benefits of golf. In concert with area PGA professionals and golf equipment manufacturers, the association helps fit players with clubs, arranges for free lessons, and recruits area golf clubs to donate tee times.
At the 2009 AT&T National golf tournament, Padilla joined host Tiger Woods to hit the ceremonial first ball of the event's Pro-Am on July 1 at Congressional Country Club. Photographers captured his smooth swing, quite an improvement in one short year.
The prosthesis technicians at Walter Reed fitted Padilla with a rudimentary device when he first started playing golf.
"I didn't like it," he recalled, "and it was too loose. They gave me another, but it would break easily."
Padilla began working with occupational therapist Josef Butkus to improve the prosthesis. When Padilla complained that it didn't rotate well enough, Butkus attached the gripping device to a "robo wrist," a ball and socket system that rotates 30 degrees in all directions. After five or six versions, Padilla had a comfortable and practical prosthesis
Al Fenstomocher, a veteran professional on the staff at Mount Vernon, matches Padilla's passion for golf. Honored on two occasions by the PGA for his contributions for growing the game, Fenstomocher is a great ambassador for golf.
"I'm so proud to be able to help these fine young men," he said. "And so is everyone else, because everywhere I go, club members invite these guys to join their group or ask to buy them lunch."
Padilla is currently looking for a job, and when asked about long-term goals, he confided, "I want to be a PGA pro."