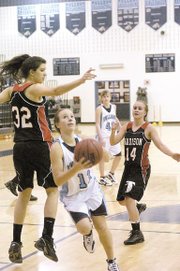 When Erin Kavanagh is on her game, which is quite often, the Madison High girls' basketball team is a tough matchup for most any opponent. On Thursday night, Jan. 7, the 5-foot-10 senior guard/forward had it all working, in the first half especially. She led the Warhawks to a 60-47 Liberty District road win at McLean.
Kavanagh scored a game-high 20 points, 15 of which came in the first half as Madison built a 32-18 lead at the intermission. The versatile playmaker played a key role in helping the Warhawks, with the win, reach the .500 mark at 5-5.
"Erin had a nice [shooting] touch that game," said Madison coach Kirsten Roberts. "She was doing it all, looking to drive, shooting from the outside and getting others involved."
Madison also received good contributions from freshmen guard Megan Henshaw (12 points), junior wing Sarah Schrock (8) and junior forward Anna Jay (6).
"I think we played a very good offensive game," said Roberts who, a year ago, led Madison to the district tournament title in her first season as the Warhawks' head coach. "We're starting to really work together and play pressure defense. [On offense] we're looking to pass the ball and not shoot right away."
Kavanagh is Madison's top returning player from last year's squad which, as the No. 4-seed at the postseason district tournament, defeated No. 2 Langley in the championship game. She scored 11 points in that finals win and was named to the All-Tournament Team.
This season, Kavanagh is leading Madison in scoring with 12 points per game.
Thursday's win over McLean did not come easy for Madison, which built an 18-point first half lead only to see the home team Highlanders fight back to get within four by late in the third quarter. But the Warhawks drained a pair of three-point shots in the closing seconds of the third quarter to regain the momentum, than kept McLean at bay in the final quarter.
"McLean has a lot of heart," said Roberts, the Highlanders' former head coach. "They are very quick and go to the basket. I think we figured out [in the second half] we had to play a little better on offense and on defense."
The win over Madison improved the Warhawks to 3-0 in district play. But Madison experienced its first district loss two nights later when it fell to host Stone Bridge, 51-41, on Saturday. Kavanagh tallied 20 points and Henshaw had 10 in the setback. The Warhawks' next leading scorer was Khristin Kyllo (6 points), the Warhawks' senior point guard.
Madison led 9-8 after one quarter before the Bulldogs outscored their guests, 21-8, during the second quarter to take a 29-17 lead at the half. Madison outscored Stone Bridge, 24-22, in the second half but it was not enough to overcome the home team.
<b>OVER THE CHRISTMAS HOLIDAYS</b>, Madison took part in the Bulldog Bash Tournament, hosted by Westfield High School. There, the Warhawks won their opener on Dec. 28 over private school opponent Flint Hill School, 53-49 in overtime. But Madison lost its final two games at the holiday tourney, falling to the host Bulldogs, 50-34, on Dec. 29, and then losing to Potomac High (Woodbridge), 51-39, on Dec. 30.
Three Warhawks — Kavanagh (15 points), Schrock (13) and Kyllo (11) — scored in double digits in the win over Flint Hill. In the following game loss to Westfield, both Kavanagh and Jay, the latter of whom is averaging six blocks per game this season, scored 10 points, while Schrock and Kyllo both had seven points. And against Potomac High, Schrock and junior forward Carmen Mann led the Warhawks with 10 points each, while Jay scored seven.
Madison's district wins have come over South Lakes, Fairfax and McLean. The Warhawks' first win of the new year came on Jan. 4 when Madison defeated visiting Fairfax in overtime, 46-44. Roberts' squad received a balanced scoring attack in that victory with Schrock (11 points) and Kavanagh (10) both tallying double figures, and teammates Kyllo (9 points), freshmen guard Megan Leduc (7) and Jay (5) each contributing offensively as well.
"It's a great tournament and all the teams are very well coached," said Roberts, of the Westfield tournament.
Madison is under the leadership this season of team co-captains Kavanagh and Kyllo. Coach Roberts is pleased with her team's play on defense. On the offensive end, she wants to see patience and good passing in Warhawks' motion sets.
"We just have to figure out our offense a little better," she said.
Madison will be at home this Friday night against Langley.