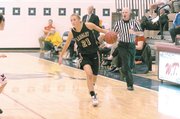 For Tim Anderson, coaching basketball has been a way of life over the years. He has coached both males and females at most all levels — youth, intermediate school, high school and collegiate. A few years ago, he even led a team of troubled delinquents to several state titles. His past coaching experiences have been in North Carolina.
But the past couple of years, Anderson has resided in Northern Virginia, where he has continued to coach youngsters on the hardwood. Last year, he worked as an assistant girls' basketball coach at Yorktown High School. This season, he is the head coach for the Langley High girls' team. Thus far, he has loved his time as a member of the Saxons' program.
"Coaching at Langley is great," said Anderson, who was hired last spring after former longtime Saxon head coach Cheryl Buffo elected to step down. "The parents, administration and staff are supportive. The students are excellent kids. We're trying to make the girls better one game at a time."
Coming off last year when it finished 15-10 and reached the Liberty District tournament finals under Buffo, Langley is slowly gaining momentum this winter. Following a 0-4 start, similar to the 2-6 beginning to last year's season, the Saxons had won four of their last six games going into this week's action.
On Thursday, Jan. 7, Langley improved to 4-6 overall and 3-1 in the Liberty District with a 46-31 district home win over Marshall. The Saxons' leading scorers in the victory were senior co-captains Kristen Kody and Alexis Doherty, who scored 13 and 11 points, respectively. The team's next leading points contributor was Catherine Plunkett with six.
It was a nice turnaround win for Langley, following a tough 60-36 district road loss at Stone Bridge on Jan. 4. In that contest versus the Bulldogs of Ashburn, Langley jumped out to a 15-9 lead following one quarter of play before Stone Bridge outscored its guests, 41-13, over the next two quarters to take a commanding 50-28 lead going into the final quarter. Plunkett, a junior, scored eight points to lead the Saxons.
At 3-1 in district play, the Saxons were in a four-way, first place tie in the district standings with several other teams — Stone Bridge, South Lakes and defending district champion Madison. Langley's district wins thus far have come over Fairfax, McLean and the Statesmen, all of the district triumphs coming on the Saxons' home floor.
"We play a lot better at home," said Anderson, whose team's lone home setback came against non-district opponent Edison on Dec. 11.
<b>ANDERSON</b> said his squad, like most teams around the Northern Region, has had stretches of both good and bad play over the first half of the season. At times, he said, the team's energy levels are down.
"Some games, it's like a deer [staring] in the head lights," said Anderson. "No one is diving on the floor, no one is setting screens."
On other occasions, Langley displays spells where everything is clicking.
"When we're playing well, the shots are falling, we're boxing out and getting rebounds, and we're pushing the ball up [the floor]," he said.
"I think our team is coming along," said the coach. "We're definitely a work in progress. The bottom line is we need to play hard, play smart and play together with great passion."
Anderson said his team played with the fire he likes to see in the win over Marshall. Doherty, a post player, played well on both offense and defense. Kody, meanwhile, led the team in scoring and also rebounded well. Both players have made recent commitments to play the sport at the collegiate level next school year, Doherty at Division 3 New York University and Kody at the University of Pennsylvania.
Langley showed excellent hustle overall in the game with Marshall. In particular, coach Anderson liked the hard, all out play of juniors Plunkett and Sarah Kleinknecht (five points). Mary Riley Pembroke, a senior post player, and Brooke Gallagher, a senior perimeter player who excels as a defensive player, both contributed four points in the win over Marshall, while Whitney Wolaver had three points.
"We have to rely on all of our players," said Anderson, who during practices stresses defensive and rebounding fundamentals, as well as good ball movement on offense.
Langley, which over the holidays competed at the four-team Falls Church Christmas Classic where the Saxons defeated Lee and lost to Marshall, was scheduled to play district road games this week at Jefferson on Tuesday, Jan. 12 and at Madison on Friday, Jan. 15.