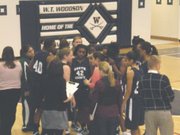 South County senior guard Lauren Adams' 15 points against W.T. Woodson on Jan. 8 didn't come from highlight reel passes or slick outside shots.
Instead, the 6-foot guard feasted on turnovers created by the Stallions' defense, deliberately driving the hoop to help seal a 42-29 victory over one of Patriot District's hottest teams.
"We showed that we're going to be leaders in the district and be a threat," she said.
South County muffled Woodson's sharpshooters, holding them to 10 points and leaving Woodson supporters at Paul "Red" Jenkins Gymnasium with very little to cheer about.
The Stallions' win over Woodson isn't so much a statement about the team's ability to compete, but how they intend to compete.
"We're never going to be a 60-or-70 point scoring team," Head Coach Chrissy Kelly said. "We'd like to get there, but we're going to rely on what we're most comfortable in and that's defense."
It might not be the most jaw-dropping style of play, but it's been effective. In four of the Stallions' six wins, the team has kept opponents under 40 points.
"We rely so much on our defense," Kelly said. "We trust that we know what we're going up against. If we limit our breakdowns, we'll always have a chance to be in the game."
While the Stallions' 7-4 record might suggest the team is battling with inconsistency, the squad's 3-0 Patriot District record tells a different story, but it isn't making the team overconfident.
"I don't think you can pull away in the Patriot District," Kelly said. "It's just too strong of a district. There are so many good teams."
South County's recent string of success is infusing the bench with confidence as pairings loom with strong opponents such as West Springfield and T.C. Williams.
"We were having trouble at the beginning, but we're starting to show what we can do," Adams said. "It's coming together."
Kelly said that part of the team's future success will depend on strong play from Adams and the development of junior forward Simone Antwi.
"When [Adams] puts her understanding of the game under control, we are a much better team," Kelly said. "She works so hard, but there's a difference between working hard and working smart."
Adams said she's aware of the improvement her coach wants and already has pinpointed areas to change.
"I want to be more of a leader," she said. "It's not about scoring the most points, but showing that I'm trying to win [for the team]."
Kelly said Antwi, a member of the South County state runner-up volleyball team, will only continue to grow as the season progresses.
"When [Antwi] puts her game all together, she could be really good," she said.
South County continues the 2009-10 season on Jan. 14 at home against Lake Braddock.