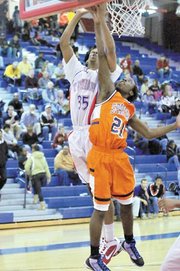 The T.C. Williams boys basketball team has turned things around in the win column since dropping its season opener to Hayfield on Dec. 8. The Titans have won seven straight, including Monday's 59-57 victory over South County. T.C. Williams beat Woodson 48-43 on Saturday and Lake Braddock 51-36 on Thursday.
"We got the rude awakening that we deserved," senior point guard Cortez Taylor said. "We thought every team was going to lay down to us in the beginning because of who we are and what we do."
But while the win streak looks good on paper, head coach Julian King said he wants the Titans to play with more consistency. He pointed to the two-point win against South County and the team's double overtime win against Friendship Collegiate as the type of games T.C. Williams might not pull out if it doesn't play well more often.
"Sooner or later, if we don't pick up the intensity and try to play a little smart," he said, "yeah, it's going to bite us in the butt."
King said the Titans' reaction to their season-opening loss has been mixed.
"I think we lost the first one and some of the kids were chalking that up as first-game jitters [or] maybe Hayfield finally had our number," he said. "Even though we have a lot of juniors on our team, we're inexperienced. We've come out the games since then and we've been real inconsistent. I have one of my star players playing great, one playing below average. One quarter we have great defensive stands, next quarter we can't guard our shadows. We're still trying to find our way."
King said 6-foot-6 senior post Billy Rowland, who teams with Ryan Yates for the Titans' 1-2 scoring punch, has struggled of late.
"He's such a nice kid, we have to change his mentality," King said. "[We have to get him] coming out being a little nasty, especially playing at that position. He's got a big bulls-eye on his back because he's one of the better players in the area and he's got to prove it every night. I think he's finding that lesson out the hard way that if you don't come and at least play hard every night, you're going to struggle."
T.C. Williams, the 2008 AAA state champions, travel to face Lee at 7:45 p.m. Thursday. The Titans host Montrose Christian, considered one of the best teams in the country and the last team to beat T.C. Williams at home (Jan. 12, 2008), at 8 p.m. Saturday. King said along with winning he wants to see an all-out defensive effort from his team.
A strong defensive effort would help the Titans fulfill Yates' wish.
"I'd like to see us dominate an entire game from start to finish," Yates said, "starting inside with our horse, Billy [Rowland]."