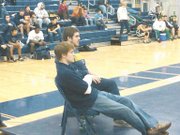 James Mon stands in the background with his arms folded, observing one of his pupils on the wrestling mat. The 61-year-old Washington-Lee head coach is allowing his assistant, 23-year-old Derek Sweet, to instruct the W-L grappler from up close, but that doesn't mean the veteran of nearly 30 years isn't involved.
"Put him on his back!" Mon shouts.
Mon has coached the varsity wrestling program at Washington-Lee since 1982. During that time, he has retired from teaching (2001), survived cancer (nasopharyngeal) and seen five U.S. presidents elected. On Saturday, Mon's Generals went 0-3 in a home dual meet against the Arlington schools. Yorktown, Wakefield and Bishop O'Connell each went 2-1.
The Generals lack depth and experience — which makes coaching Washington-Lee the perfect project for Mon, who has stuck around primarily because of his love of teaching.
"You go out there and you show these young boys how to wrestle, they start to believe in what you're saying and you come so close [to winning]," Mon said. "[If we] lose by two points to a school, you show determination and the following year you come back and you beat that school. … I like the idea of teaching. No matter what you're doing; teaching a class — I taught math — I like the idea of teaching about how things are solved."
DURING THE PAST two seasons, Mon has been passing his knowledge to more than just his grapplers. He has taken Sweet under his wing, preparing him to take over the program one day. Mon isn't sure how much longer he wants to coach and, while Sweet said he would gladly take over as head coach, his future is also unclear. So for now, the two form a coaching combination of grizzled experience and youthful exuberance. Sweet said he mostly works with the Generals during practice while Mon makes sure the athletes behave and are on time, and he gives his opinion on technique matters when he feels it is necessary.
Sweet is in his second year with the program and has been an in-house substitute teacher at Washington-Lee for nearly one year. He is from upstate New York and wrestled at Ithaca College. He said he was allowed more control halfway through his first season once he proved himself to Mon.
At first glance, Mon appears gruff and tough. Senior heavyweight Alex Goodahl will vouch for that, but he says there's another side to the man.
Mon is "stern. He'll yell at you sometimes, but he's always watching out for you," Goodahl said. "If you need anything, you go to him. He'll take care of you. … He'll run you hard, but he never does it too much.
"He's wise. He's the wise coach."
Sweet offered a similar description.
"He's a lovable man," the assistant said. "You've got to get to know the guy because you'll hear him screaming and yelling one second and then he'll be cracking jokes the next second. … He wants to be strict, but he also enforces positive relationships with kids and really tries to get the best out of kids."
Mon played football but did not wrestle growing up — he said wrestling was not offered in his home city of Monessen, Pa. He liked the sport's one-on-one nature, however, and got his start as a wrestling coach at Arlington's Thomas Jefferson Middle School in 1971. Mon said he and some friends helped turn the school's wrestling program into a winner. He eventually moved on to Washington-Lee High School, but there was not a coaching vacancy with the wrestling program. Instead, he accepted a position as a freshman basketball coach, which he held for two seasons (1978-79). He then became the junior varsity wrestling coach for two seasons, before he got an opportunity at the varsity level.
"The third year, the head coach decided to resign and they were looking for someone to be the head coach," Mon said. "I've been coach at the junior high school level and I was successful there. I coached two years at the JV level and I was OK there. Why not try?"
MON TOOK the job and has been there ever since. During his first season, one of Mon's grapplers was an athlete he worked with when he coached at the junior high level. Antonio Jolivet took second in the Great Falls District, third in the region and third at state. This early success gave some athletes the wrong impression, Mon said.
"Some of the kids started saying, 'Hey, if this coach can do this in one year, maybe there's something to it,'" he said. "It's not one year. It's years of working with this kid. He started to understand the nature of the sport. … They've got to understand you just can't walk into this sport cold and be a champion. You've got to really work at this sport. You've got to know the game."
Mon is trying to teach the game of coaching to Sweet. Mon said Sweet knows plenty about technique, but that he just needs to learn about how things are run in Virginia in terms of scheduling and rules.
"Once we get that, he'll be able to do this job very easily," Mon said. "… He'll make a great coach."
Mon and Sweet are preparing the Generals for a Saturday meet at St. John's — and preparing themselves for the future.
"I'd be proud to take [the W-L head coaching position] from him if he lets me," Sweet said. "I don't see him ever walking away from it until he physically [can't coach]."
<b>Other Matchups</b>
Yorktown defeated Wakefield and Washington-Lee and lost to Bishop O'Connell. Sam Burton and Danilo Downing each went 3-0 for the Patriots.
"We did pretty good," Yorktown coach, James Blanton, said. "I think we did our best wrestling the first two rounds and we kind of sputtered out that last match [against Bishop O'Connell]. … Maybe O'Connell wanted it a lot more than us and they showed it. Kudos to them. … I'm pleased with the progress. We've got more to work on and I think come district time, we'll be ready to put on a good showing."
O'Connell beat Yorktown and Washington-Lee and lost to Wakefield. Sean Benedict (189) and Jacob Ramos (112) were 3-0 for the Knights.
"We're getting better every week we step out," O'Connell coach Brad Drummond said.
Wakefield beat Washington-Lee and O'Connell and lost to Yorktown.