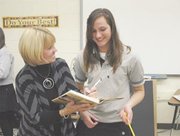 "You all have a story to tell." This was one of the messages author Carolyn Baker recently shared with classes at Paul VI Catholic High School. Carolyn Baker wrote "Last to Leave Home," a nonfiction book relating her experiences growing up with a brother with Down Syndrome. Baker spoke to PVI's freshman English classes, as well as upperclassmen students taking an elective class called The Exceptional Child.
"Last to Leave Home" includes anecdotes about Baker's brother Mark, wrapped in tidbits of scientific research about Down Syndrome.
"Mark's story has really helped people understand those with disabilities," Baker said. Baker has donated all proceeds from her book to the Adult Down Syndrome Center in Atlanta. During her presentation at PVI, the author answered students' questions about the writing process,and encouraged them to write as often as possible. Her presentation also covered contributions and achievements individuals with disabilities have made in society.
<i>Publishers of 17 weekly newspapers in Suburban Washington:
Alexandria Gazette Packet, Arlington Connection, Ashburn Connection, Burke Connection, Cascades Connection, Centre View North, Centre View South, Great Falls Connection, Fairfax City Connection, Fairfax Station/Laurel Hill/Clifton Connection, Herndon Connection, McLean Connection, Mount Vernon Gazette, Potomac Almanac, Reston Connection, Springfield Connection, Vienna Connection</i>