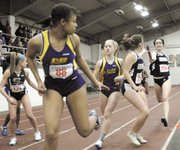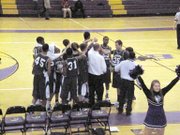 At a freshman basketball game between South County and Lake Braddock on Jan. 14, South County parent John Butler watched as his son Jacob took the court with the Stallions.
For Jacob the transition from club-level basketball to high school has been eased through a year of play on the freshman squad.
"You can't just jump into varsity sports," Butler said. "You have to prepare for it. That's what makes freshman basketball good for younger kids. It helps them prepare."
Butler said Jacob is considering playing in college, but for now his son will work his way up the South County basketball hierarchy.
In 2011, however, incoming freshmen may not get the same chance.
On Jan. 7, Fairfax County Public School (FCPS) Superintendent Jack Dale proposed $104.8 million in program cuts for Fairfax County schools.
On the chopping block are all freshman sports, winter cheerleading and indoor track.
Under the proposal, swim and dive teams also would have their practice time cut in half and all athletes would pay a $100 per sport fee to participate in a Virginia High School League sport. The money would go to the county's general fund.
Bill Curran, FCPS director of student activities, said the drastic cuts represent how the lagging economy has forced the county to scale back its spending in 2011.
"The cuts are more for preserving what we can for the students," Curran said. "Not what we could take away."
Curran said the proposed athletic budget cuts would save the county $1.8 million, but would also displace 2,200 freshmen athletes and 300 coaches, roughly 12 coaches per school.
"There weren't really any other options," Curran said of cutting the freshman programs.
The $100 athletic fee is estimated to bring in $900,000, half of what is being cut from the activities' budget.
Students who cannot afford the $100 VHSL fee would be covered similar to those who receive free and reduced lunches, Curran said.
The proposed cuts also affect sophomore and junior athletes who would have to compete with incoming freshmen for limited spots on junior varsity teams.
"Coaches are going to have to make player evaluations," Curran said. "They'll have to make cuts at the junior varsity level."
Not surprisingly, the budget cuts aren't that popular with local parents.
"It's placing kids in a bad situation because you're taking opportunity away from them," Butler said. "[Freshman] sports help students transition from middle school to high school. It's not just about sports."
On the opposite side of the court during the recent South County-Lake Braddock freshman basketball game, Lake Braddock parent Tonna Roberts also expressed displeasure with the proposed cuts.
"It doesn't surprise me because the county has thrown us out before," she said. "I don't think they think freshman sports are important."
Like Butler, Rogers' also focused on how future students would deal with the leap from middle school to high school.
"It's hurting the opportunity to get fully acclimated with the school," she said. "It's huge to become part of the school. To not allow [freshmen] to have activity with each other in the school is criminal."
FOR THE SECOND straight year, indoor track is also at risk, a move that Lake Braddock indoor track coach Mike Mangan said could displace as many as 2,700 athletes.
"It's amazing that we're re-fighting the same battle we did last year," he said. "But as a group, we're ready to show that we provide a lot of opportunity for the kids."
He pointed out that indoor track serves a diverse group of students who benefit from the sport's existence.
"We're the largest female sport, we're one of the largest minority and low-income sports, and there's virtually no money barrier to enter our sport," he said. "You just have to have a pair of shoes. You don't have to have prior training and there's no cuts."
The sport also has launched some of the area's top athletes, including nationally ranked runner Liana Epstein of Lake Braddock.
"If there isn't indoor track, [Epstein] never runs," he said. "She started out with indoor track and moved to cross-country from there."
Mangan also questioned if the county really had explored alternatives to removing freshman sports, winter cheer and indoor track.
"It's hard for me to believe that we can't find a way to take care of these kids," he said. "Instead of having one group taking a hit for everyone, we should look at other ways to [save sports] by cutting our costs."
Community members will have a chance to speak on the proposed budget cuts at public hearings taking place Monday, Jan. 25 and Tuesday, Jan. 26, at 6 p.m., at Luther Jackson Middle School in Falls Church.
An online petition opposing the cuts was started on Jan. 11 with a goal of gaining 1,000 signatures. It is available at www.thepetitionsite.com. As of Tuesday night, Jan. 20, the petition had 758 virtual signatures.