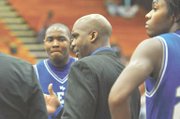 Head coach David Houston III and the West Potomac boys basketball team entered Tuesday's game at T.C. Williams with a plan. Facing a Titans team which hasn't lost a Patriot District game since the 2004-05 season, the Wolverines wanted to pressure the Titans' 1-2 scoring punch of Ryan Yates and Billy Rowland while moving the ball around and getting quality shots of their own.
West Potomac battled, pulling to within four late in the fourth quarter. But while the Wolverines competed, the team's 21 turnovers and a big fourth quarter from Rowland were too much to overcome.
Rowland scored 10 of his team-high 19 points in the final period and T.C. Williams pulled away with a late 9-0 run en route to a 62-52 victory at the Garden.
Defensively, West Potomac limited Yates and Rowland to a combined 20 points entering the fourth quarter and forced 21 turnovers for the game. Offensively, Martez Redfearn attacked the basket and Daryl Copeland was knocking down perimeter shots. The Wolverines led 30-29 early in the third quarter and cut an 11-point fourth-quarter deficit to four in the closing moments.
But West Potomac missed several opportunities by turning the ball over 21 times and got into foul trouble late. Eight of Rowland's 10 fourth-quarter points came from the foul line. The Titans were 11-of-13 from the line in the final period.
"[Our players] followed the game plan … we just turned the ball over too many times," Houston said. "[T.C. Williams] caused them. It's not like we just threw the ball out of bounds on our own. They're a good team, but I thought we played well enough, outside of those turnovers."
REDFEARN SCORED a team-high 19 points, including eight in the fourth quarter. Redfearn scored inside to cut the Titans' lead to 51-47 with 2:40 remaining. The 6-foot-6 Rowland answered with a two-handed dunk at the other end, but Redfearn scored once again moments later, cutting the T.C. Williams lead to four with 2:07 to play. But West Potomac wouldn't score again until Shakil White banked in a 3-pointer moments before the final buzzer sounded.
Copeland did much of his damage early, scoring 13 of his 15 points in the first half. The 5-8 point guard tied the game at 19 with a 3-pointer with 4:47 remaining in the second quarter. He gave the Wolverines a 22-21 lead with another triple one minute later. He knocked down 1 of 2 free-throw attempts in the closing seconds of the first half to pull the Wolverines within one at 29-28.
"They weren't afraid," Houston said of Redfearn and Copeland. "They're scorers. … Redfearn, he took the ball to the bucket. He didn't settle for jumpers. Copeland, we got him free on a couple jumpers and he was in rhythm. I thought both of them were pretty much in rhythm."
But while the Wolverines had their moments of execution, turnovers stopped them from getting over the hump. They turned the ball over six times in each of the first three quarters. T.C. Williams outscored West Potomac 18-8 in the third quarter, including an 11-0 run, to take a 47-36 lead into the fourth.
"I think we played good," Copeland said. "We just started rushing and turning the ball over. We've just got to limit our mistakes. … I was feeling good. I had confidence."
Keevyn Hankins score seven points and Terrell Ward added six points for the Wolverines, who fell to 8-6 overall, 4-3 in the Patriot District.
T.C. WILLIAMS IMPROVED to 9-2, 7-0 in the district, but head coach Julian King was not pleased with his team's effort. He said he was hoping for an inspired group after Saturday's 21-point home loss to national power Montrose Christian.
"Just our lack of energy and motivation after a 21-point loss at home in front of a large crowd, it's amazing to me that we didn't come out [and even if we were] making mistakes, [we were making them] going 100 mph," he said. "We're just lackadaisical with everything and assume we're always going to pull it out at the end. It's not going to work like that [all the time]."
West Potomac beat Woodson 57-51 on Jan. 14 and lost to Lake Braddock 64-59 on Jan. 13. The Wolverines travel to face Lee at 7:30 p.m. Friday.
"We wanted to win. There are no moral victories out of this," Houston said of the loss to T.C. Williams. "We came here to win, flat out. Last year, we came in here [and] we played them, same guys, and we lost by [31 points]. A year later, we came in here and we had them on the ropes. … The only thing I take out of it is we'll see them again."