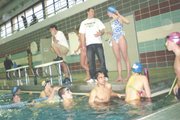 At the start of every season, the Robinson swim and dive team hears the same old predictions.
Rival teams assume graduation has depleted the Rams' talent and the swimmers simply won't be as dominant this year.
Senior Cody Cardenas said he and his teammates don't believe those claims for a second.
"At Robinson, we don't settle with losing," Cardenas said.
Other Rams listen in on Cardenas comments before junior Ricky Munch jumps in with his own take on the team's determination.
"We've always had the mentality that we're going to do well," Munch said. "We don't think about having down years."
In fact, everything's moving along rather swimmingly for the Rams.
After winning the 2009 VHSL state championship, the Rams boys are 5-1 while the girls are a perfect 6-0.
At practice on Jan. 14 at South Run Recreation Center in Burke, first-year head coach Clayton Joyner spoke about his team's dominating season.
"We don't have as many big guns as we did in the past, some might even say it's a down year," Joyner said. "But I don't think that at all. I have faith in my teams. We're a very strong group of swimmers."
He has high hopes for the girls' team, a group that's been dubbed the "Dream Team."
"Last year, we had a bunch of new kids come up from the middle school ranks and we won the state title," senior Elizabeth Lewan said. "We've got a solid team this year, and hopefully we can do it again."
Inheriting a team after a state title victory would seem to add an extra layer of stress, but Joyner said he isn't fazed by the team's past success.
"I don't really think about [the past]," he said. "I'm just focused on the kids in the water now."
While speed, strength and teamwork might be the cogs that turn Robinson's winning machine, camaraderie and friendship are as important.
"We're not a team, we're a family," Joyner said. "With a family bond, we're fortunate to believe in every swimmer we have."
For many of the swimmers, friendship, not just winning, is a key benefit.
"[I like] the brotherhood [the team has]," Cardenas said. "We all train. We don't fight. We go as hard as we can. It's the biggest reason we're successful."
The boys and girls teams even enjoy displaying their love of swimming to the entire student body with wacky theme dress-up days.
"[Last Friday] it was animal print for the girls and pretty in pink for the boys," Lewan said. "It's fun to dress up as a team and sing songs on the bus to meets. It's our tradition."
Crazy clothing might help the team's morale, but at the end of the day, the Robinson tradition of winning also drives the team.
"We have a rich history of being [a good team]," Munch said. "It's nice to swim in that atmosphere."
The winning drive also is one of the reasons the seniors take pride in passing on their traditions to the next generation.
"I just want to see the team keep winning when I'm gone," Cardenas said. "Every year, we come out to be the No. 1 team in the area. I don't want that to stop."