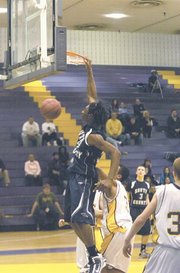 At South County, the winning formula for the boys' basketball team is quite simple.
When 6-foot 4-inch forward Mohamed Alie-Cox performs a slam dunk during a game, the Stallions win.
Simple, right?
"Right now, we're undefeated in games when [Alie-Cox] dunks," head coach Wendell Johnson joked. "We want to make sure he dunks in every game now."
The good-luck dunks came in handy against Lake Braddock on Jan. 14, as the Stallions escaped with a 62-60 road win after dominating for the first half.
Alie-Cox rammed home a pair of jams during the game, quieting the Lake Braddock crowd and halting the Bruins' comeback attempt.
While some opposing teams and fans are awed by Alie-Cox's aerial superiority, to the junior it's just his job.
"It's just coincidence," said Alie-Cox, a transfer from Mount Vernon about his unusual stat. "It's just how I play."
Alie-Cox's dominant post play is a major reason the Stallions are enjoying one of their best seasons ever. He's also one of the reason's teams are leaving games against South County with a mark in the loss column.
"He's a force inside that teams don't expect us to have," Johnson said. "He prevents teams from getting that second and third shot. It frustrates them."
The junior's impact isn't just felt on defense, but also in making his teammates lives a bit easier on offense.
"[Alie-Cox also sets up our outside game and can control rebounds for us," Johnson said. "Teams have to cue in on him and leave other guys alone."
Then there's the slam dunk, a power move that not every big man in high school basketball can execute, a tool his teammates find useful.
"On offensive, I know he has the dunk and we can work with that," senior guard Gabe Jackson said. "It's nice to know I can use that if we need to."
With 159 points on the season, Alie-Cox said he's just beginning to understand how good he can be.
"Last year, I was more timid [as a player] when I was at Mount Vernon," he said. "This year, I just improved on everything. I go harder now and play harder."
In addition to playing with an edge during games, Alie-Cox has brought some of that attitude to practice.
"If the team goes soft, I'll try to toughen them up," he said. "I'll swat their shots, make them go harder each time."
The punishing practices haven't helped make him the most popular player.
"Sometimes [my teammates] get mad that I'm blocking them or going hard," he said.
With eight games left in the season, the Stallions (9-4) are one win away from breaking the 10-win plateau for the first time in school history.
In South County's five-year history, the team hasn't recorded a single winning season, but 2009-10 brings the chance to break that spell and start a winning tradition.
"[Getting a winning season] is something we're definitely working for," Alie-Cox said. "It's one of our biggest goals."