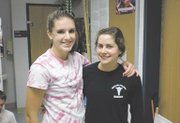 Since the start of the 2009-10 Indoor track season, Lake Braddock head coach Mike Mangan's top four girls haven't competed together in the 4x800 meter relay for a number of reasons.
"Having all four girls together wasn't always guaranteed," he said. "With the snow and holidays, people were out of town as well."
His talented group of runners helped Lake Braddock claim a state title in cross-country in 2009, and Mangan anxiously anticipated the chance to load-up his relay.
The first chance came on Jan. 19 on one of indoor track's grandest stages, The Armory Track and Field Center in New York City.
With banked turns and an intimidating atmosphere, Mangan hoped his four girls — Sophie Chase, Kelly Hagan, Liana Epstein and Casey Lardener — would qualify for the Virginia state indoor track meet during The New Balance Games, a major competition featuring schools from across the country.
"We felt like we should be able to run a state qualifying time when we had an opportunity," he said. "The race in New York was the perfect chance."
The Armory Track and Field Center bills itself as one of the nation's fastest places to run. Senior Liana Epstein said it was the perfect place for the girls' relay debut.
"Any time we get to go to the Armory and race, we know it's going to be good," she said. "We knew we were ready to run fast. It was nice to have it play out [in New York]."
Coupled with the anticipation of running in such a high-profile race and running as a unit for the first time, the girls turned in a time of 9:19.90, the 13th fastest 4x800 Virginia indoor track time. It also set a school record for the fastest time during a non-championship race.
"We fought really hard," Epstein said. "We were just going for [the qualifying time] and we're really happy with how our first race [as a group] went together."
Hagan said the atmosphere of The New Balance Games helped the team to focus on the relay's goal.
"It was really exciting to compete against tons of teams," she said. "Before our race, we saw professional athletes running the mile. It just brought us down to earth to see them running and reminded us what we needed to do."
The boys' 4x800 meter relay team also delivered a standout performance, despite Mangan's uncertainty going into the race.
What he got was one of the boys' fastest times in Lake Braddock's recent history.
The boys' time of 8:12.62 narrowly missed the Virginia state qualifying cut.
"We had the parts, but we hadn't put together a full [team]," said relay team member Matt Hoogland.
"It was a surprise to see that we were that close to getting to the state [qualifying] time," Hoogland said. "It was just fun to be there and get that close."