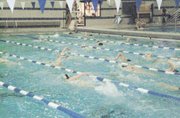 As a sophomore, Fairfax swimmer Joey Kelly watched as the 2007-08 girls' swim and dive team captured the school's first state title in 2008. Now, as a senior, he is a key member in the boys' bid to make a title run of their own.
"The guys have done really well this season," he said. "We've only lost two meets and we had swimmers missing at both."
On Jan. 22, Kelly and the boys closed out the regular season with a 207-107 crushing of South Lakes.
In the meet, the Rebel boys posted six region qualifying times and won every individual event in the meet.
It also was a red-letter night for Kelly as he qualified for the state finals in the 100-meter fly with a time of 52.92, setting a Fairfax County school record in the event.
With the victory, the Rebel boys finished the 2009-10 season with a 5-2 record.
Some rivals might have thought the Rebels would be in a rebuilding stage following their state championship in 2008, but head coach Meredith Harris said it's more or less a shift in power.
"It's not really a rebuild, things have just changed," Harris said. "The focus has switched onto the boys. The boys have been improving so much. Since their freshman year, they've been building up."
Harris said that progression of the boys team is finally peaking and with Kelly and many other male swimmers at the top of their game, it could be an exciting post-season for Fairfax.
"Our boys have come a long way," Harris said. "They've always been in the shadow of the girls. This year is the year for the boys."
Kelly isn't focusing on the state meet yet, but instead, he is preparing for the upcoming Liberty District Championship meet.
"We have a lot of room to improve, but we're getting there," he said.
The senior captain does recognize that his team has grown over the course of four seasons.
"We're in a good position this year," he said. "We have a lot of depth and we hope that we can contest in the regionals and the states."
Kelly remains optimistic that this may be the year the boys' team matches the girls 2008 state title performance.
"It would be great [to win states]," he said. "I don't know when it will happen next, but hopefully it's close."