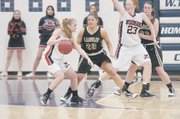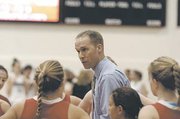 Melissa Wilson, a senior forward on the McLean High girls' basketball team, put on quite a scoring exhibition during the Highlanders' 55-34 Liberty District home win over Langley last Friday night, Jan. 22. The contest was the first part of a girls-boys' double-header between the cross-town rival schools. Langley won the nightcap boys' game, 56-35.
The bulk of the large crowd began entering the McLean gymnasium during the second half of the girls' game. That was good timing because that is when Wilson scored all 17 of her points in leading the Highlander girls to victory. By game's end, the place was nearly filled and fans had gotten a good look at a McLean team which is steadily improving as the season moves on.
"I think the past few games we've been playing much better and much more consistent," said McLean coach Mike O'Brien, whose team improved to 9-6. "The Langley game was another example of that."
It was McLean's third win over its last four games. The Highlanders, earlier last week, had won at district opponent Fairfax, 45-37, on Jan. 19 before winning again three days later over the Saxons.
Along with Wilson's big night against Langley, McLean also received a strong game from junior guard Andie Romness, who scored all 12 of her points in the first half as the Highlanders built a slim 22-20 halftime advantage. McLean outscored Langley 16-8 in the third quarter and 17-6 in the fourth quarter in a stellar second showing. Brittany McCraty, Erin Mundy and Caitlin Baker scored eight, seven and six points, respectively, in the win for McLean.
"From the tipoff we were consistent," said O'Brien, of his squad. "We dealt with some foul trouble in the first half but got through that."
Langley (5-11), under coach Tim Anderson, had good nights from senior forward Alexis Doherty (11 points), senior guard Kristen Kody (10) and senior forward Mary Riley Pembroke (8).
O'Brien said the environment, with the large, energetic crowd, made things extra exciting. He had concerns that his team might be hurt by nervous energy, but that was not the case.
"It's a great environment for kids to play in," said O'Brien, of the rival game against Langley. "We had good intensity and that helped our defense."
<b>IN THE BOYS' GAME</b>, Langley (13-2) remained unbeaten in district play with their 21-point win over McLean (6-10). Colin Jones led the Saxons with 17 points. Also for Langley, David Adams (9 points), Joey Kiffe (8) and center Austin Kriz (7) had good games. For the Highlanders, Phil Bouchard scored 12 points, Gordon Rogo had eight and Sango Amolo six.
The Saxons led 24-14 at halftime before outscoring the home team, 17-7, in the third quarter to pretty much put the game away. It was the sixth straight win for Langley, which improved to 8-0 in district play. The Saxons' last loss came to Centreville on Dec. 30.