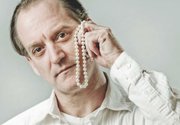 Even people who say they don't particularly care for solo performance shows because, after all, watching just one actor all evening long can often be something of a bore — find that the one-actor but 35-character play, which won the 2004 Pulitzer Prize for Drama, thoroughly engrossing and satisfying.
At least they do if the one performer is worth his salt and, in Andrew Long, Arlington's Signature Theatre found an actor who can hold the stage — and everyone's attention — for the full evening without seeming to resort to cheap tricks. His secret is that he trusts in the richness of the characters that author Doug Wright crafted in an effort to tell a most extraordinary story.
"I Am My Own Wife" is the story of Charlotte von Mahlsdorf who was born male in 1928 in what became East Germany, but chose to live life as a woman. Her passion was furniture, but her challenge was survival. First the Nazis and then the Communists cracked down on unorthodox life styles. In 1991, after half a century of surviving such repressions, she moved to Sweden to live out her final days. Ah, but what compromises did she really have to make to have survived the Third Reich and the Cold War?
Just covering such a multi-faceted story in one evening might be quite a challenge. But Wright found additional dramatic materiel in his own struggle to understand Mahlsdorf, so he wrote a play about his own efforts to research a play about Mahlsdorf. He structured it in such a way that one actor can play both the playwright and his subject as well as many people through whose memories the tale unfolds.
When the play was first produced in New York it earned a Tony Award for its one actor, Jefferson Mayes. When it closed on Broadway, Mayes took the show on the road, performing it in Washington at the National Theatre in 2005. Since then, local theater companies have found in it a property that can challenge an actor, a director and a design team and also can satisfy an audience while avoiding the expense of a large cast or multiple sets. In fact, the attraction to theater companies of such a potentially inexpensive show able to sell a good number of tickets has been so strong that a recent tabulation showed it to be one of the 10 most produced non-classic plays in the past 10 years.
Signature's production doesn't skimp in terms of talent. Andrew Long appeared at Signature in its somewhat strange production of "My Fair Lady" and its premiere of the musical "Saving Aimee." He is a classically trained actor who is well known to local theater lovers for many performances at the Shakespeare Theatre Company as well as notable roles at other local companies including Studio Theatre where he earned the Helen Hayes Award for Outstanding Actor in the searing drama "Frozen."
His is an almost subtle treatment of a very flamboyant script. It isn't that he shies away from the peculiarities of the multiple characters he has to bring to life, but rather he puts the emphasis on those characters and not on his transitions from one to the other. That way he avoids drawing undue attention to himself as an actor, and instead, concentrates the audience's focus on the story. And with a story this interesting and intricate, covering decades of challenges and deceptions, this concentration is a good thing.
***
Brad Hathaway reviews theater in Virginia, Washington and Maryland as well as Broadway and writes about theater for a number of national magazines. He can be reached at Brad@PotomacStages.com.