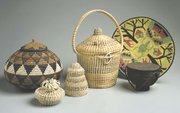 The Alexandria Black History Museum is offering several special events throughout February in recognition of Black History Month. Reservations are recommended and can be made by calling 703-838-4356 or after Feb. 1, 703-746-4356.
The following events will be held at the museum, 902 Wythe Street in Alexandria:
<mh>Thursday, Feb. 4, through Saturday, March 13
<cl>"Grass Roots: African Origins of an American Art" Exhibition
<lst>Explore the history of coiled basketry in Africa and America with this traveling exhibition from the Museum for African Art. "Grass Roots" traces the evolution of an ancient art while examining rice-growing societies which, through the trans-Atlantic slave trade, exported their cultures to America. The exhibition features baskets from the Lowcountry of South Carolina and Georgia as well as from diverse regions of Africa, and artifacts, such as basket-making tools. Suggested admission is $2. Free opening reception on Thursday, Feb. 4, from 6:30 p.m. to 8:30 p.m.
<mh>Saturday, Feb. 6, 11 a.m. to 1 p.m.
<cl>"Their Voices Can Be Heard, Part V: Locating Descendants of Deceased Ancestors" Lecture
<lst>During Black History Month, discover your own family history with expert techniques for tracing African-American ancestors. Join genealogist Char McCargo Bah at a lecture and workshop where she explores the use of cemetery, church and death records in family history research. The featured cases are from Char's research of descendants of people buried at historic Freedmen's Cemetery in Alexandria. Free!
<mh>Saturday, Feb. 13, begins at 4:30 p.m.
<cl>"The Language You Cry In" Film Screening
<lst>This film tells an amazing scholarly detective story that searches for meaningful links between African Americans and their ancestral past, bridging hundreds of years and thousands of miles from the Gullah people of present-day Georgia back to 18th-century Sierra Leone. It recounts the even more remarkable saga of how African Americans have retained links with their African past despite the horrors of the middle passage, slavery and segregation. Film is 53 minutes with discussion to follow. Free!
<mh>Thursday, Feb. 18, 6:30 p.m. to 8:30 p.m.
<cl>Lillian Lincoln Lambert Book Signing
<lst>Author and businesswoman Lillian Lincoln Lambert will discuss and sign her new book, The Road to Someplace Better: From the Segregated South to Harvard Business School and Beyond, which follows Lambert's journey from her rural roots in Powhatan County, Va., to her historic achievement as the first black woman to earn an MBA from Harvard Business School in 1969. After Harvard, Lillian continued to break barriers by founding and transforming her company, Centennial One, into a $20 million operation before she sold it in 2001. Her book interweaves hard-won lessons and life-affirming principles that will inspire people to dream big, act bold and never be afraid to find their own path. Free!
<mh>Saturday, Feb. 27, 11 a.m. to 1 p.m.
<cl>"Feeding Our Founding Fathers" Lecture by Michael Twitty
<lst>Culinary historian Michael Twitty, a leading expert on African-American foodways, explores the role and work of enslaved African Americans in providing food to George Washington, Thomas Jefferson, James Madison and James Monroe. In his illustrated lecture, Twitty examines who the enslaved cooks were, how they were trained, and how they prepared and served food to our nation's first leaders. Free!
<bt>The following two events will be held at the Charles Houston Recreation Center, 901 Wythe Street in Alexandria, across from the Alexandria Black History Museum:
<mh>Wednesday, Feb. 17, 6 p.m. to 7:30 p.m.
<cl>An Inspirational Evening for Youth in Alexandria
<lst>Alexandria's middle and high-schoolers and their parents are invited to an Inspirational Evening for Youth, sponsored by the Human Rights Commission and the Alexandria Black History Museum. A panel of prominent African Americans from Alexandria, including Mayor William D. Euille and Police Chief Earl Cook, will share personal stories with an audience of young people to show how they overcame challenges and found professional success. The audience will be permitted to ask questions, and following the formal program, the students and panelists will be able to mingle and share a pizza dinner donated by local restaurants. Free!
<mh>Sunday, Feb. 28, 2 p.m. to 4 p.m.
<cl>Annual Black History Month Lecture & Soul Food Tasting
<lst>Join the Alexandria Black History Museum and members of the NAACP for the annual Black History Month lecture and soul food tasting. The featured guest speaker, Ron Waters, will discuss the 2010 Black History Month Theme "The History of Black Economic Empowerment." Following the lecture, guests will sample a variety of African-American traditional foods. Free!
<bt>The museum is open from Tuesday through Saturday, 10 a.m. to 4 p.m., and suggested admission is $2. To learn more about the museum and Alexandria's black history, visit www.alexblackhistory.org.