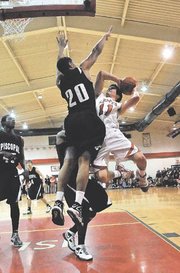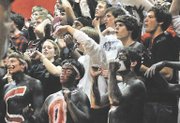 Students of Episcopal and St. Stephen's/St. Agnes spent Friday's Sleepy Thompson tournament semifinal throwing verbal jabs across Goodwin Gymnasium. On the floor, the first-half blows were one-sided as Episcopal entered halftime with a 16-point lead.
But after scoring only 14 points in the game's opening half — Episcopal fans sarcastically chanted "double digits" when the Saints scored points nine and 10 with 22.1 seconds left in the second quarter — tournament host St. Stephen's/Saint Agnes showed it would not be knocked out easily.
Led by 23 second-half points from Dexter Lindsey, the Saints stormed back and pulled to within one when a trio of Lindsey free throws cut the Episcopal lead to 51-50 with 38.7 seconds to play. But the Maroon held on, knocking down 6 of 8 free throws in the closing seconds for a 57-50 victory.
With noise from a capacity — possibly over capacity — crowd adding intensity and pressure, Episcopal found a way to recover from nearly blowing a double-digit lead.
"That was a gutsy win for our team," Maroon coach Jim Fitzpatrick said. "It showed a lot of toughness, both physically and mentally — and emotionally. What I told them in the locker room was very few teams get to play in that kind of an atmosphere and that kind of an environment. I was really proud of them because they took on the challenge, they took on the atmosphere and they enjoyed it."
After Lindsey's free throws cut the Episcopal lead to one late in the fourth, SSSA quickly fouled Maroon point guard Anthony Deriggs, sending the senior to the free-throw line. The Brooklyn native sank both shots while the Saints came up empty down the stretch.
"Anthony, he's a confident kid — he's a New York City kid — and he went up to that line and made two free throws," Fitzpatrick said. "Once Anthony went to the line and showed his confidence and made those two free throws I think the rest of our team followed suit. They saw him, a leader, a point guard, go up and make the shots that counted. Our team took a big sigh of relief and we felt confident with finishing the game out."
While the Alexandria teams provided on-court drama, students of the schools were almost as entertaining. There were common chants — "You-can't-do-that!" after a violation; "Why-so-qui-et?" to the fans of a struggling team — but also several of the creative variety. St. Stephen's/St. Agnes fans students chanted "Our-parents-love-us!" and "It's-your-bed-time!" to the boarding school students of Episcopal. Saints students also chanted "U-S-A!" as two Episcopal's best players, Arnaud Adala Moto and Sadiq Abubakar, are from Cameroon and Nigeria, respectively.
In the end, it was the Maroon with the last laugh as Moto scored 19 points, Abubakar added 14 and Episcopal students chanted "Cam-e-roon!"
Maroon senior Hunter deButts, who attended eighth grade at SSSA prior to attending Episcopal, spoke highly of the rivalry.
"You can tell with all those fans in here — we were past capacity — it's awesome," he said. "It's a great rivalry."
Bennett Jones also scored 14 points for Episcopal.
AFTER A SLOW START, the Saints gave their fans reason to cheer in the second half. SSSA trailed by as many as 14 points in the fourth quarter, but Lindsey put the Saints on his back and almost single-handedly brought them back. After a Donte Allison basket cut the Episcopal lead to 12 at 44-32, Lindsey scored 14 of the Saints' final 18 points. He finished with a game-high 27, including five 3-pointers.
"I really tested them at halftime and challenged them," SSSA coach Kevin McLinton said. "At halftime the kids decided if they were going to lose, they were going to lose going as hard as they possibly could and that's what they did. …[Lindsey has] been playing like that all year long. He's made big shots for us. When we needed a basket, he came through. … He didn't want to lose."
Richard Pastorino scored eight points for the Saints and Justin Goldsborough added six.
"It's crazy," Goldsborough said of the environment surrounding the game. "It's like adrenaline pumping. You just get hot."
Episcopal, which won the tournament in 2009, lost to national power Montrose Christian 47-38 in Saturday's championship. SSSA lost to St. Albans 69-65 in Saturday's third-place game.
While neither team won its final game of the tournament, Friday's semifinal matchup didn't disappoint.
"You try not to listen to the crowd, you try not to coach for the crowd, but you can't help but hear the support that they gave our team," said McLinton, who played collegiately at Maryland. "Our kids feed off that. … This environment is like no other. I played in the ACC and played at Duke and places like that, but I wouldn't trade this environment for anything."