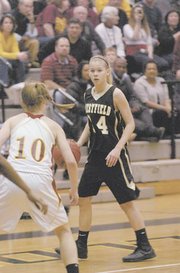 Westfield's bid to end Oakton's stronghold on the Concorde District fell short last Saturday night at the district tournament finals where the four-time defending champion Cougars jumped on the Bulldogs early on way to a 64-55 championship game win. The postseason girls' basketball game took place at the spacious Westfield High gymnasium.
The top seeded Oakton team (19-1) grabbed early control of the game, building a 19-6 lead after one quarter. The No. 2-seed Bulldogs (16-4) never totally got back into the game thereafter. The Cougars, who won their fifth straight district tournament championship, received a balanced attack in which four players tallied double figures scoring. Oakton, the defending Northern Region champions, received an especially strong outing from sophomore point guard and tourney MVP Caroline Coyer.
For Westfield, senior guard Shelby Romine scored 15 points, including three, 3-point shots, while pulling down five rebounds. Both Romine and teammate Jess McNamara, a junior guard who scored six points in the finals loss, were named to the six-member All-Tournament team during postgame award ceremonies. Oakton was represented on the all-tourney squad by Coyer and junior shooting guard Zora Stephenson.
<b>OAKTON</b> got a huge boost early on from junior guard Danielle Davis, who scored her team's first 11 points as the Cougars rushed out to an 11-2 lead. Three of Davis' baskets during that opening stretch were three-pointers. Davis, sophomore guard Katherine Coyer and Stephenson each finished the night with 14 points. Caroline Coyer, twin sister of Katherine, led the winners with 20 points. Caroline (MVP) and Stephenson made the all-tournament team.
Romine led the Bulldogs in scoring, but Westfield also received solid outings from senior forward Mary Barondess (12 points, 7 rebounds), junior guard Yawrely Ramirez (9 points), sophomore guard Maggie McInturff, who made two 3-pointers, and senior guard Jessica Andre (5 points, 5 boards). Siobhan Beslow, a junior guard, pulled down six rebounds.
Katherine Coyer was responsible, for much of the night, in guarding Romine, the sharp-shooting guard who is Westfield's team captain and one of the region's top players.
"She's a real good player and always finds an opening," said Coyer, of Romine. "She's going to get her points."
Caroline Coyer was impressed with her sister's defensive play against Romine.
"I covered Shelby in the [regular] season and she scored 22 points on me," said Caroline, with a smile. "Tonight showed how good a defender Katherine is. On defense a lot of people stepped up for us tonight."