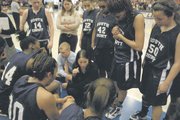 As the South County girls basketball team left Robinson Secondary School following a 50-31 loss to Oakton on Feb. 27 in the Northern Region semi-finals, senior guard Fatu Conteh fought back tears by reminiscing on her team's accomplishments.
"It really hurts not to win, but we did accomplish a lot this season," she said. "We went from being the last seed in the district last year to being in the district finals and region semi-finals."
Although disappointed with the outcome, head coach Chrissy Kelly took a moment to focus on her team's accomplishments.
"We should take away a lot of pride from this game," she said. "The girls worked really hard in this past two years. We've just got to keep working."
Kelly said she hoped her team would take away some lessons from playing one of the area's elite teams.
Oakton, a potential state title contender, dominated the Stallions early in the first quarter, jetted to a commanding lead and never looked back.
"We weren't doing well in transition," Conteh said. "We would score and [Oakton] would come right back and score on us. Then we gave up five threes in the first half."
At the end of the first half, the score read 26-13, but the 13-point margin proved too great for the Stallions to overcome.
Kelly said the lead meant her team would have to change their game philosophy from defense first to setting an offensive tempo, an unfamiliar style for the Stallions.
"We're not a great scoring team," she said. "But we have to capitalize on the little opportunities. I don't think I did a good job preparing my kids to be successful."
While Kelly put some of the blame on herself, she mentioned the bitterness of defeat might breed future success in the form or experience.
"Hopefully, we can take something away from [being in the Northern Region semi-finals]," she said. "It's a learning process where we are. It was exciting to be a part of it and hopefully it will continue to drive the team."