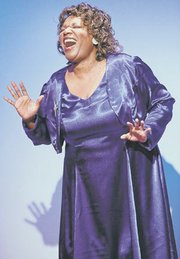 Bernardine Mitchell and the original cast of "Mahalia, a gospel musical," which includes Alexandria's own award-winning artist William Hubbard, have returned to MetroStage (after a five-year absence) to cheering, clapping, swaying audiences. The story of Mahalia Jackson, gospel music and the civil rights movement has touched the hearts of everyone who sees it.
The production of "Mahalia, a gospel musical" is a beautiful example of the power of theater. Whether audiences grew up with Mahalia's music in their homes and gospel music in their churches, or know Mahalia in name only, and have only a limited connection or knowledge of gospel music, one thing is certain. Everyone responds to the extraordinary story of Mahalia Jackson and is moved by her story, her faith, her music, and her heart. Mahalia rose from humble beginnings in New Orleans, moving to Chicago during the Great Migration of the 1920's, singing at churches with professional gospel groups.
Many of her most famous gospel songs are included in this production, including "Take My Hand, Precious Lord," and "Move on up a Little Higher." As the "Queen of Gospel Music," Mahalia performed at Carnegie Hall to great acclaim. But she also played an important role in the Civil Rights movement, as a friend of Dr. Martin Luther King Jr. and performing in front of 250,000 at the Lincoln Memorial in 1963. With Mitchell's extraordinary contralto voice, critics and audience alike find that Mitchell is literally channeling Mahalia Jackson in both her music and her spirit.
In addition to showcasing some of the most talented artists in the country, MetroStage is committed to producing plays full of heart and soul that touch our audiences deeply and embrace the diversity of our population. There are only two weeks remaining in this run of "Mahalia, a gospel musical," but there is still time to experience Bernardine Mitchell and the multi-talented cast of S. Renee Clark and Alexandria's beloved William Hubbard as we celebrate the music of Mahalia Jackson and her contribution to both the rise of gospel music and her role in the Civil Rights movement.