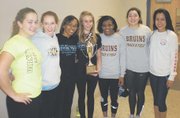 Lake Braddock runner Sophie Chase has been under pressure to perform this season. But, at the Northern Region indoor track championship on Feb. 20, she ran with the weight of the Bruins' region title hopes on her shoulders.
"Before the race, I heard we were behind Robinson by a couple of points," she said. "I knew I was going to have to win [my 3,200-meter race] if we wanted to win regionals."
Along with the added pressure of her race determining who would win the title, she battled fatigue from races throughout the day.
"Going into the race, I was tired," she said. "I had just run my 1,600-meter race an hour earlier."
Chase is only a freshman, but her inexperience in the high school ranks didn't shake her confidence. She knew how to handle the race's long distance and the boisterous crowd.
"When I get on the starting line everything goes out of my mind," she said. "I just concentrate on what I have to do. I barely hear anyone screaming. I just get on the line and go."
Just as she surprised her team with clutch performances during the cross-country season, Chase came up big again, finishing first in the 3,200-meter. She also finished first in her earlier 1,600-meter race.
Lake Braddock went on to defeat Robinson by one point, 76-75 for the girls' indoor track region title.
In head coach Mike Mangan's office, trophies of past championship teams line the walls. With so many, Mangan admitted it's hard to keep track of the storylines behind each one.
"I'll definitely remember this one," he said. "It was pretty amazing."
While Chase's 3,200-meter race made her a hero, Mangan said all of the girls turned in their best performances to help capture the title.
"I went back and looked [at the meet sheet]," he said. "There was not one girl on our team who did not exceed her placing in their event. You can't ask for more than that."
The Bruins weren't expected to be a region contender, but the team didn't pay much attention to what the critics thought, Mangan said.
"The entire time during my races I was thinking about how no one thought we would win it," Senior Ericka Roberts said. "I kept thinking if we just tried that much harder it would be possible."
The Bruins carried that chip on their shoulders to their next meet at the Virginia AAA State finals on Feb. 27.
Lake Braddock finished the state meet 11th overall and beat rival Robinson, which finished 12th, by one point.
For the Bruins' freshman hero Sophie Chase, the regional meet magic stayed in her shoes as she earned her first career individual state title in the 3,200-meter run.
"It was a stacked race, these are the best kids in Virginia," she said. "But I just had a strong race."