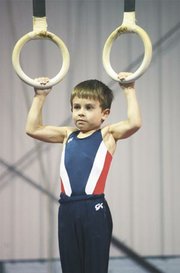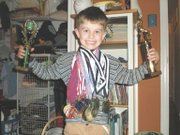 Lying on the couch in the living room of his Mantua home, Jake Sowder watches a DVD of a parallel bars routine from his latest gymnastics meet.
"I got first place on this one," he said.
The 7-year-old's eyes cling to the television. As the video plays, Jake's body transitions from sofa to floor, flipping over like a slinky down a staircase. Finally, Jake vaults into a handstand for all to see.
His mother Suzy, sister Helena, 10, and father, Jim, roll their eyes as he holds the handstand with perfect balance. His arm muscles tighten, displaying a strength not commonly seen in one his age.
"Al right Jake, let's calm down," Jim Sowder said.
Jake lowers his body, pops up to his feet and launches himself onto the couch.
For seven hours each week, the Mantua Elementary first grader practices gymnastics at the Fairfax Gymnastics Academy.
Every few weeks, he goes to competitions where he typically cleans up. In his two-year gymnastics career, Jake has earned 30 medals.
His practice time doesn't include the "extracurricular" work he does at home — practicing his high bar routine on the family swing set, somersaulting around the house or spinning around on the mushroom, a circular pommel horse practice apparatus.
Jake runs a mile-a-minute at times, but twice a day he has to sit still. His wellness depends on it.
Jake has cystic fibrosis, which, according to the Cystic Fibrosis Foundation, is a life-threatening disease that causes mucus to build up and clog vital organs in the body such as the pancreas, lungs and digestive tract.
The illness can create further health complications.
"People with cystic fibrosis have difficulty keeping up their weight and getting nutrition which puts you at higher risk for when you have a cold," Suzy Sowder said.
For 20 minutes in the morning and night, Jake wears a vest with air tubes connected to the back. The vest is hooked up to an air pulse generator that vibrates the vest, lightly shaking Jake's 42-pound body.
"We do this to help shake up and break up the mucus his lungs," Jim Sowder said.
Along with the vest, Jake wears a mask connected to a nebulizer machine to deliver more medication. He also takes various pills to help battle the illness.
"On a good day, with no extra medicine, Jake takes about 15 pills in addition to the other therapies," Suzy Sowder said.
For Jake, his daily routine of treatment and gymnastics is normal. This is the only life he's known.
"This is how it's been since he was young," Jim Sowder said.
Since Jake was 3-months-old, he's battled with the disease. Both of his parents carry the cystic fibrosis gene, but Jake is the only child in the family with the condition.
"It's a 25 percent chance you will give it to someone," Suzy Sowder said.
The battle has been long and hard, but the Sowders have persevered.
As Jake grew older, his parents looked for ways to help keep him healthy. They found a new, fun treatment in the form of gymnastics.
"A friend of mine told me about gymnastics so we checked it out," Suzy Sowder said. "It's actually good for his condition because it keeps him healthy."
Jake joined the Fairfax Gymnastics Academy and soon began working on his abilities. Not long after joining, he was invited to join the competition team. Soon after joining the team, the awards flowed in.
"There's only been two or three meets where he doesn't win every medal," Suzy Sowder said. "On occasion, he has a medal for sixth place, but most of the time it's first."
It turned out gymnastics had spawned another form of treatment: winning. It didn't matter if it was a trophy or medal, Jake enjoys the thrill of victory.
"Sometimes they have competitions after the meets, like who can hold a handstand the longest," Suzy Sowder said. "Well, Jake won that. So he comes running up to Jim and says 'Dad! Look what I just won! A yo-yo!"
Add one yo-yo to Jake's medal count, but soon he'll be looking to reach the pinnacle of his young career.
Jake even has a fan page set up on Facebook to help relatives and fans keep track of his gymnastics career.
But the winning and medals aren't the Sowders' main concern. They just want Jake to stay active for health reasons and are even looking into wrestling programs.
"We just want him to stay interested [in gymnastics]," Suzy Sowder said. "If he wins, that's a big bonus."
On March 28, Jake will compete with Virginia's best level four gymnasts at the State Gymnastics Championship in Hampton Roads.
His current coach, Ray Hacker, said Jake's chances of winning the meet are "very good," but that his potential could carry him farther.
"He's very strong for how small he is. He just has that natural gymnastics talent," Hacker said. "Right now, at his age, the sky is the limit."