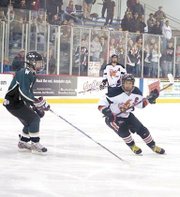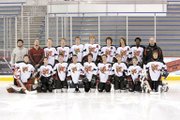 A trio of top scorers led the Herndon High ice hockey team to it's best-ever season this winter. Seniors Max Kortegast, Sam Stone and Ville Rutanen were among the Northern Virginia Scholastic Hockey League's top players and offensive point leaders and helped the Hornets capture their Central District title and ultimately reach the NVSHL title game.
Herndon's quest for it's first-ever league championship fell just short when the squad lost to Woodbridge, 6-3, in the finals of the league playoffs. The title game took place on Friday, Feb. 26 at Kettler's Capitals Iceplex in Arlington.
Herndon, which captured its second straight district title while going 9-1 during the regular season, received a first round postseason bye before winning playoff contests over both Oakton and Langley to reach the finals. The quarterfinals round win over Oakton, by a 5-2 score, came on Feb. 22, while the victory over Langley, 5-4, came two days later. Both postseason games took place at Reston SkateQuest.
In the semis win over Langley, Rutanen, who plays center position, scored what proved to be the game-winning goal, breaking a 4-4 tie, with about four minutes remaining to play. The dramatic score put an exclamation on what was an overall outstanding game by the Herndon team.
"Everybody stuck to the game plan and executed well," said head coach Robert Hubble.
<b>THE WIN OVER LANGLEY</b> advanced Herndon to the title game for the first time in its nine-year team history. Last year, following a 9-1 regular season, Herndon ultimately fell in the league semifinals to Forrest Park (Md.).
Herndon, in the finals against the Vikings of Woodbridge, struggled in the 6-3 setback. After falling behind 3-1, Herndon played Woodbridge fairly even thereafter. But it was not enough to win.
"We had a letdown in the title game," said Huddle. "We were just happy to make the finals."
Woodbridge successfully shut down Herndon's first scoring line. Herndon's second line accounted for all three of its goals in the title game. The scores came from Kortegast, freshman Ian Jonesi and junior Elisha McIntosh.
The championship game loss was bitter. But overall, the season was a great success.
Huddle said his team received outstanding leadership and play from its 12th graders this season.
"In all honesty, they carried us most of the season," said the coach. "Things kind of came together with the right group of kids [complimenting the seniors]. We had a little bit better depth this year."
Kortegast, a wing, was the team's top points' producer with 39 (22 goals, 17 assists). He finished fifth in the league in scoring. Herndon's second leading scorer was Sam Stone, who also played a wing position.
Stone totaled 34 points (21 goals, 13 assists) and was seventh in the league in scoring. And Rutanen, at center, was Herndon's third leading scorer with 24 points (15 goals, nine assists).
<b>THE FUTURE</b> looks bright for the program. A strong core of offensive players, including Jonesi, McIntosh, junior Matt Ellison and sophomore Michael Horn, are set to return next year. Defensively, the team should be solid with junior Chris Wolfe and sophomores Paul Hubble and Patrick O'Bryan helping hold down opposing offenses.
The following players made up this year's Herndon roster: Sam Stone, Max Kortegast, Elisha McIntosh, Ville Rutanen, Bryan Kadlec, Ian Jonesi, Jonathan Jenus, Michael Horn, Andrew Weaver, Matthew Ellison, Jacob Kudeviz, Patrick O'Bryan, Paul Hubble, Macculillind Emery, Chris Wolfe, Jean-Christophe Daudelin and Alexander Jonesi.