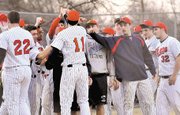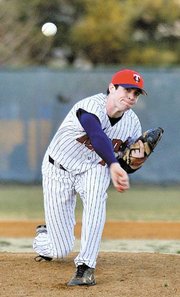 Head coach Andrew Simpson and the seniors on the T.C. Williams baseball team have grown together during the past five seasons.
Simpson, 27, began his coaching career with the Titans' junior varsity in 2006. After three seasons, he took over the varsity program in 2009 and led T.C. Williams its first regional playoff victory in more than a decade.
On Monday night, the Titans took a step toward the start of the 2010 campaign with a 13-0 victory over Bishop Ireton during a scrimmage at Simpson Field. As Simpson enters his second year as varsity head coach, the Titans who received his tutelage as eighth-graders on JV are now seniors, ready for a breakout season.
"Our expectations are to win the district," senior Matt Kilby said. "Expectations for T.C. Williams baseball [in] the past … have been 'win five games, don't be in last place.' Now, starting last year … we're starting to be a team people talk about and they're scared to play us. This year, that's the team we want to be.
"When you develop a bond with a coach like that, guys are thinking on the same page. He knows how to approach you, you know how to approach him."
Kilby, a first-team all-region selection as a right-fielder last season, is the Titans' top offensive threat. The 6-foot-4, 185-pounder hit .493 as a junior and set the school record for RBIs with 37.
"He will punish a mistake [pitch]," Simpson said. "He doesn't get many pitches to [hit], which is a problem for him, but he will kill a mistake. You're not going to get a fastball by him. He's got very quick hands."
Kilby, who is leaning toward playing at Navy or Harvard next year, will hit cleanup for the Titans. His bat will be depended on even more with the loss of senior second baseman and No. 3 hitter Adam Forrer, who suffered a torn ACL during the offseason. Forrer was a first-team all-region selection who batted .532, scored 34 runs and stole 18 bases. He has a scholarship to play at the University of Richmond.
"What I've told Matt is: don't try to make up for Adam and don't try to be two people this year," Simpson said. "I just want him to play his game, do what he did last year. We'll make up for Adam, but I don't want him to try to make up for two people at one time."
Kilby appeared to get the message.
"I've just got to keep it simple," he said. "[If] a home run comes, great, but I can't hit two home runs every at bat."
Senior Rob Mannel returns, but will move from catcher, where he was honorable mention all-district last year, to third base.
Junior Trav Clark was a second-team all-district shortstop who hit leadoff last year. In 2010, he will move to catcher and fill Forrer's No. 3 spot in the order. Clark batted .441 with 10 doubles and 23 runs as a sophomore.
Junior center fielder Will Rossi and sophomore first baseman Aaron Tovsky are also returning starters. Senior Alex Goldfarb was an honorable mention third baseman last year.
Sophomore Nate Ribyat will take over in left field and junior Doug Murphy will take over at shortstop. The second base and designated hitter positions are undecided.
On the mound, junior Steve Weidman returns as the Titans' ace. A second-team all-district selection last year, the 6-foot-1 right-hander is coming off a season in which he went 6-1 with a 4.09 ERA. Weidman said his fastball topped out at 87 mph last year. He also throws a change-up, curve, two-seam fastball and slider.
"We kind of took it easy on Steve last year," Simpson said. "He was always on a strict pitch count. This year, we're going to kind of let him go — unleash him a little bit."
Weidman said the Titans' regional victory over Yorktown last season garnered attention.
"It got our team out there," he said. "Everybody is starting to notice us more and see us as a big contender to play against."
Mannel is slated to be the Titans' No. 2 starter. The 6-foot-4 right-hander went 1-1 with a 7.73 ERA last season.
"We have two quality, workhorse starters in Weidman and Mannel," Simpson wrote in an e-mail.
Goldfarb, Kilby, Tovsky and senior Chris Cattaneo also return with pitching experience. Kilby will be the team's closer. Simpson said he is looking for someone to step up and establish himself as the No. 3 starter.
The coach also said the team needs to improve defensively after allowing an average of two unearned runs per game last year.
T.C. Williams will take part in the Paul VI Jamboree on Saturday, scrimmaging Yorktown at 2:30 p.m. and Paul VI at 4 p.m. The Titans open their season at home against Wakefield at 5:30 p.m. March 17.
Kilby said the Titans need to play well and hopefully more Titan fans will attend their games.
"I want to win district this year — that's my main goal," he said. "I've been thinking about that goal since the season ended last year. We've been talking about this year since we were in eighth grade. 'Wow, when we're seniors, we're going to be awesome.' Now we're seniors, this is when it counts.
"We've got to show our school that, 'Look, the baseball team's pretty good, too. You can talk about the basketball team all you want, but come to some baseball games and check us out.'"
Other Titan seniors: Alex Hampl (C/1B), Marshall Cook (OF), Jon Jones (OF).
"This senior class," Simpson said, "I've coached since they were in eighth grade. … We've grown together. … It's just a great group of guys, [a] very intelligent group, very hard working. They've come a long way as ball players."