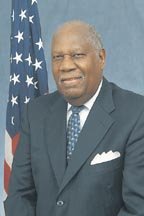 The Alexandria Historical Society is calling for nominations for the 2010 T. Michael Miller Alexandria History Award, to be presented to a person or persons who have made noteworthy contributions to the preservation of the historic, cultural, and artistic heritage of Alexandria. Honorees will be presented with a certificate and gift at a special awards ceremony on Wednesday, April 28, at 7:30 p.m., at The Lyceum, 201 South Washington Street. Four outstanding history students from each of Alexandria's high schools will also be honored at the ceremony. A reception will follow the awards ceremony and lecture.
The Alexandria History Award has been renamed the T. Michael Miller Alexandria History Award in honor of the contributions of Alexandria historian T. Michael Miller, who retired in 2009 after three decades of public service and research into Alexandria's past.
The guest speaker will be Robert G. Stanton who was director of the National Park Service from 1997 to 2001 and today is a senior adviser to the Secretary of the Interior. As director of the National Park Service, Stanton oversaw major planning and resource preservation programs at the White House, Yellowstone, Yosemite, and Gettysburg. Since 2001, he has served as an executive professor at Texas A&M University and as a visiting professor at both Howard University and Yale University. From 1988 to 1997, Stanton served as the regional director of NPS's National Capital Region, which includes 40 national park units in the Washington metropolitan area. Stanton, a graduate of Huston-Tillotson University in Austin, Texas, began his career 47 years ago as an NPS ranger.
Organizations and interested individuals are invited to submit written nominations to the History Awards Committee of the Alexandria Historical Society. Each nomination should be in the form of a narrative, no longer than two pages, which explains in some detail the contributions of the nominee. Copies of the nominee's work, including publications, should be included.
Nominations should be mailed by Friday, March 12 to the Office of Historic Alexandria, 220 North Washington Street, Alexandria, VA 22314. Contact Bill Dickinson of Alexandria Historical Society at 703-370-3089 or visit www.alexandriahistorical.org.