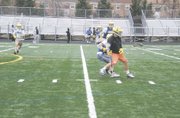 For much of their high school careers, Robert E. Lee lacrosse players Andrew Senft, attack, and Damian Pulos, goalie, have spent afternoons together practicing in the backyard.
"Not a day goes by that we don't practice together," Senft said. "We're always trying to better ourselves."
Senft, whose primary job is to score goals, says he has the book on Pulos' goaltending, knowing all of his moves. Pulos contends it's the other way around.
"It's vice-versa," Pulos said. "I know all of his skills."
So when the Ferrum College-bound Senft was asked by his college head coach Nat St. Laurent if the area had any other impact players he should look at, one player came to mind.
"He asked me if I knew anyone else who would be interested [in playing at Ferrum]," Senft said. "I knew he was lacking a goalie, so I mentioned Damien and sent him some highlights."
While Pulos wanted to play lacrosse in college, the offers just weren't coming.
"I was thinking about [playing in college]," he said. "But I wasn't getting a lot of looks from coaches. So I thought about just going to a good school."
Senft's scouting report caught St. Laurent's eye. The Ferrum coach called Pulos and asked if he'd want to be play for the Panthers. Pulos' answer was short: yes.
"We got in touch and then I visited Ferrum," Pulos said. "I think it's going to be a real good program."
The two Lancers will be members or Ferrum's first-ever men's lacrosse team. Ferrum, a four-year university in Ferrum, Va., near the Blue Ridge Mountains, will play in the NCAA's Division 3 ranks.
Lee head coach Daniel DiPirro expects his two star players to continue their success at the next level.
"They're going to bring an honest work ethic [to Ferrum]," he said. "They bust their humps. They're all about lacrosse 24/7."
With Ferrum's first men's lacrosse game on the distant horizon, Senft and Pulos are more concerned about their upcoming season as Lancers.
"I'm confident in our team," Senft said. "We lost two seniors last year, but everyone [who is] coming back is ready. We also have a lot of first-year players who are busting their tails."
DiPirro's assessment of the team is similar to Senft's.
"Our strength is in our attack and goalie," he said. "The [defense] needs to pick it up a bit."
Senior defender Killian Gallagher, a veteran from the youth leagues, will lead a rookie defense, that features some players who "haven't played a lacrosse game in their life," he said.
"They're picking up the game fast," he said. "They have been able to just pick up the sticks and cradle and pass just like that.
The Lee team also will feature some former football players from the school's Division 5 AAA Northern Region runner-up squad.
"We have pretty good size," Gallagher said. "Where we lack in stick work, our size takes over."
That doesn't mean the Lancers will rely solely on brute strength to keep attackers at bay.
When it's time to face "West Springfield and Woodson, we're going to be stronger," he said. "We're going to get the stick skills."