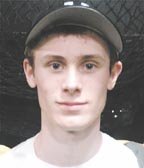 The Yorktown baseball program has a new head coach and lost its co-region player of the year and two other all-district first-teamers to graduation after winning a school-record 19 games in 2009. While change can be used as an excuse, the defending National District champions are instead striving for similar success.
Mike Ruck takes over head coaching duties following Mike Allen's resignation after 12 years on the job. Second baseman and pitcher Kyle Toulouse, the 2009 co-region POY, is playing football at Holy Cross, leaving shoes that might take several Patriots to fill. While it won't be easy, Ruck and two of his seniors hinted Yorktown has what it takes during Sunday's Northern Region media day at the Virginia Baseball Club in Merrifield.
"Everyone came in saying we lost too much," said Ruck, who had previous coaching stops in Maryland and Florida. "Seeing these guys play, I'm cautiously optimistic. I think if we do what we're capable of we'll be able to compete against any team any day."
One reason for Ruck's optimism is the return of all-district pitcher Dean Johnson. Ruck called Johnson a "crafty lefty" with good command, and in an e-mail said Johnson reminded him of a high school version of former Atlanta Braves all-star Tom Glavine.
"I've coached some pretty good ball players," Ruck said. "I've never coached someone that polished on the mound. … He's not going to impress anybody with his velocity, but his mound presence [is strong and] he's able to mix speeds. He's that one guy that you face and three at-bats later you're 0-for-3 and you're scratching your head, 'Why am I 0-for-3 off this guy?'"
Johnson, the staff ace, said he throws his fastball in the low 80s and also throws a changeup and a curve.
"We definitely want to win the districts," the senior said, "regular season and championship, again."
Senior Chris Kyser is one of three catchers who will work with Johnson. Ruck spoke highly of the Patriots' depth at the catcher position, saying any of the three could start for most programs in the state. The coach said Kyser, who will also play right field, is the Patriots' best overall hitter and will bat third. Senior Mike Ryan will also see time at designated hitter, and sophomore Red Dowdell is getting college looks without have played at the varsity level.
"We've heard that [we lost too much talent to compete]," Kyser said. "We've thought that, too. But with the way the team's looking so far, I think we're going to be decent contenders. … We kind of want to prove ourselves [as individuals], too. Last year we were kind of living in the shadow of Kyle Toulouse — as we should have, he's an all-state player — but I think that we're coming out trying to prove ourselves, not just the team."
Junior Brooks Valtin takes over at second base and will hit leadoff. Senior Brian Scholl will bat second and play center field. Junior Shaun Wood will play first base and hit cleanup while senior Andrew D'Addario will play left field and hit fifth.
"He just mashes," Ruck said of D'Addario. "He's a 'see ball, hit ball' guy."
Dowdell will hit sixth and see time at catcher. Junior James Overbeek will hit seventh and play third base, Ryan will bat eighth and see time at catcher at designated hitter and senior Wade Holmes is the shortstop and bats ninth.
On the mound, sophomore left-hander Daniel Whitaker is the Patriots' No. 2 starter. Junior Nate Brown is the No. 3 starter and a middle-innings reliever. Junior Kevin Tomlinson is a situational left-hander out of the bullpen and senior Ben Earley is the team's closer.