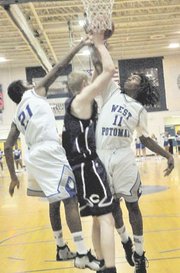 <b>Q: What location is the farthest from you've traveled from the Washington, D.C. metro area?</b>
A: Florida [for] AAU basketball.
<b>Q: Who is your favorite basketball player?</b>
A: [Miami guard] Dwyane Wade and [New Orleans guard] Chris Paul. … I like to attack the basket — that's how I get my buckets. Dwyane Wade attacks the basket very strong. I compare myself to him. Chris Paul, I like his game. He always goes hard.
<b>Q: What's your favorite food?</b>
A: McChicken.
<b>Q: When you look back, what will you remember most about your time at West Potomac?</b>
A: The Patriot District championship.
<b>Q: Who's your favorite music artist?</b>
A: Lil' Wayne. He always compares himself to the best, he always says he's the best, he's No. 1 and that's how I feel: I'm the best and I'm No. 1.
— Jon Roetman