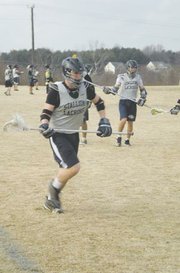 South County defender Dan Beebe already can see a profound change in the boys' lacrosse team's attitude with just a few days before the season opener.
"Last year, we lacked a lot of discipline," Beebe said. "We showed up to practice when we wanted, warmed up the way we wanted, and played the way we wanted. There wasn't a lot of structure on the team."
Where his teammates might have spent time goofing off not taking their practice seriously, the Stallions are now taking simple practice drills such as ground balls and left-handed throwing with a new mindset.
"Now, warm ups are synchronized, everyone is working together, practice begins on time and we're doing drills together," the senior said. "It's a rude awakening to the younger kids who aren't used to [the structure]."
The team's past troubles weren't just on the practice field.
During the 2009 season, a campaign that ended with a 3-8 record, Beebe said the team suffered from a "me first" mentality that hindered the Stallion's ability to become a cohesive unit.
Those days are over, too.
"We can already see big changes just from our two scrimmages," he said. "Just watching our guys play now, you can tell [their effort is] a lot better than it used to be."
The source of all the change comes from new head coach Brian Cabacar.
Cabacar started his tenure with South County as an assistant in the 2007 season, but when the head coach position opened up after last season, he said he was ready for the challenge.
"I wanted to bring some structure and organization to this team," he said. "Consistency is a big thing. When you change coaches every year, it takes away from the whole consistency thing."
Cabacar is the fifth coach to take over the Stallions since 2006.
Each season since their 9-5 campaign in 2006, the Stallions have grown progressively worse, but Cabacar hopes to reverse that trend.
"The lack of structure was something I promised to improve upon," he said. "We've been lacking that for the past couple of years."
Cabacar is receiving high marks from players for his coaching style.
"He gets along with all the guys," junior midfielder Ryan Higgins said.
"He really gets involved and is strict on the schedule. He just gets stuff done. He's every player's dream coach. He'll get on your [butt], but we like him."
Getting the team in line with stricter practices and a tougher attitude might be easier said than done. Cabacar is also dealing with a program that features many lacrosse newcomers.
Despite having a senior-heavy team, Cabacar said many of his players are ex-football players who are picking up sticks and learning the sport as the season progresses. Cabacar is hoping their teamwork and work ethic from the football team will carry over to the lacrosse field.
"These guys are very self motivated," he said. "We have a lot of seniors on the team who haven't played before, but they know each other from football."
Even with a green set of players, Cabacar doesn't want to set expectations low for the Stallions.
"This isn't a building year," he said. "It's a foundation year. We're looking at two- to three-year process. We're going to do better than last year."