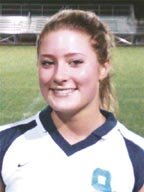 <b>Q: What location is the farthest you've traveled from the Washington D.C. metro area?</b>
A: I've been to Italy [for a] family trip [in the] eighth grade. It's the only time I've ever been out of the [United] States.
<b>Q: What is the most fun you can have while playing lacrosse?</b>
A: Scoring on a breakaway: getting past all the defenders and being ahead of everyone and just having that really hard, pretty shot that goes in the top of the goal, right past the goalie.
<b>Q: What are your plans for after high school?</b>
A: I'm hoping to go to James Madison [University] and definitely do the club field hockey and lacrosse teams there.
<b>Q: Who is your favorite music artist?</b>
A: The Fray.
<b>Q: What do you like to do when you're not doing something sports related?</b>
A: I just like to hang out with friends and listen to music.
— Jon Roetman