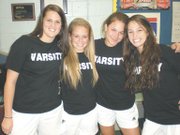 West Springfield head soccer coach J.T. Alukonis is facing the challenge every high school coach stares down: Take a new set of players, some of whom may not be acclimated to varsity-level competition, and field a competitive team.
"It's just a part of high school soccer," he said.
For some coaches, graduation turnover might mean losing a handful of players. In Alukonis' case, he lost 12 players, nearly half his 2009 Patriot District title winning team.
"We lost a very talented group," he said. "They started at the high school level together and grew together."
The large graduating class left Alukonis with only four seniors on the 2010 roster and gaps in his 11 starting positions.
"Whenever you lose players, you have to figure out what you have," he said. "Then you have to replace [the exiting] players."
But losing nearly half a roster has opened the door for a younger generation of West Springfield soccer players. The team now features three freshman, five sophomores and 10 juniors.
Alukonis said transitioning the younger girls to the varsity team will dictate how successful the team can be this season.
The success of the transition doesn't just rest on Alukonis' shoulders, but on his small group of veterans who have been called upon to serve as team leaders.
Senior Julia Stejskal said familiarizing the younger girls with varsity-level play is the first hurdle to clear.
"The youth of the girls makes it harder for them to understand the intensity level [of varsity play]," she said.
While going from junior varsity play to varsity is a major step in itself, senior Tina Rader said introducing the team to the competitiveness of other Patriot District teams is another matter.
"By the time we get to the Patriot District games, I think they'll know what's expected of them," Rader said. "We can't expect them to know right now, they've never done this before."
The Spartans started their season with a 1-0 loss to Stone Bridge on March 15, spotlighting another issue the girls are working on: building team chemistry.
Junior Danielle O'Brien, a varsity players as a sophomore, said she's still getting to know her new teammates' abilities.
"Going from having an older team to a young team and having [younger players] start was frustrating at times," she said.
O'Brien said she's still getting a feel for how long her passes should be, where she can expect players to be on the field, and understanding the team's new identity.
A 3-0 victory over Stuart on March 17 has helped build some cohesion.
"It's gotten a lot better now," O'Brien said.
Even though the Lady Spartans are young, the team is eager to defend the Patriot District title. Junior Paige Babel noted the team's success won't be determined just by skills, but by the ability to come together, regardless of age.
"We have the skills," Babel said. "We're just working on the maturity."