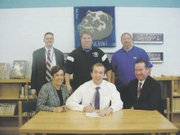 Matt Cunningham is uncertain what he'll look like 40 pounds heavier, but the relief of knowing where he's going to college is definite.
Cunningham, an all-district offensive lineman for West Potomac, signed a letter of intent to play football at Division I-AA James Madison University and will receive a full scholarship. The senior signed in February.
"It's pretty relaxing knowing I've got my future figured out," he said Monday. "I'm excited to go down [to Harrisonburg] and play."
The 6-foot-4, 250-pound Cunningham lined up at left tackle for the Wolverines, where he did not allow a sack and earned second-team All-Patriot District honors. He said he would prefer to play tackle in college but is open to moving inside. He is likely to redshirt next season and has already started a 12-week workout program given to him by the JMU staff, who told Cunningham he could build himself up to 290 pounds.
"I'm going to trust whatever they tell me to do," he said. "… It's weird thinking about how I'm going to look at that weight."
Cunningham said he became focused on playing college football after his junior year.
"After my sophomore season, coaches told me I had the talent and the footwork to go play college football," Cunningham said. "I didn't take it too seriously my junior year. … I think I could have been a lot better. After my junior season I started taking it seriously."
JMU, a member of the Colonial Athletic Association, went 6-5 during the 2009 season, closing the campaign with four consecutive victories. The Dukes won a national championship in 2004.
Cunningham also played basketball for West Potomac and competes in the shot put and discus. He carries a 3.3 GPA.