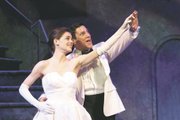 Every once in a while, a truly lovely new musical finds its way onto local stages. When that happens, it is cause for rejoicing. It's happening now with "The Light in the Piazza," which Molly Smith has directed as something of a chamber musical at Arena Stage's temporary facility in Crystal City.
It gives us lush melodies, expressive lyrics in two languages as befits a story of lovers united in spite of cultural difference (she's American, he's Italian) and the lilt of five musicians on a perch hovering above a simple but effective set. It is delivered by a cast with both the musical chops and the acting skills to deliver the show's multiple pleasures. All together this is a delightful package that runs at least until April 11.
The show has a history of charming audiences. It began as a limited engagement at the Lincoln Center in New York but demand for tickets caused extension after extension until, after over a year, the Center really had to close it so they could put on other shows in their theater. Before they did, however, it garnered six Tony Awards including best score for a musical.
And what a score it is! In an age that seems dominated by juke box musicals using the catalogues of pop and rock stars and musicals attempting (sometimes successfully) to use rock, salsa, rap or hip hop in theatrical settings, it is refreshing indeed to find a score that harkens back to a time when melody and melodic lines were the bread and butter of musical shows.
The melodies of "The Light in the Piazza" range from soaring to scintillating. Its composer is Adam Guettel who, in "Floyd Collins" a few years back, demonstrated both a melodic inventiveness and a flare for capturing the sound of a time and place. With "The Light in the Piazza" the time is the early 1950s and the place is Florence, Italy, just beginning to burst back to life after the devastation of World War II. Guettel found the blend of sounds that linked the place to its historical roots as a cultural capital over the centuries and the excitement of the post war boom in pop developments.
That Guettel would be gifted melodically may not be much of a surprise. After all, his grandfather was Richard Rodgers of Rodgers and Hammerstein and also of Rodgers and Hart. His mother is that other Broadway veteran Rodgers, Mary — who composed the score for "Once Upon a Mattress"). Surprise or not, his felicity with melody is matched by an intelligent approach to structuring a score. His way with a tune may be inherited, but there is also ample evidence of the kind of craft in creating a full score that comes only from diligent study and practice.
Here, Guettel has the benefit of a well crafted script for a compelling story, which gives him plenty of opportunity for standout musical moments. That script, by Craig Lucas, is an adaptation of the novel by Elizabeth Spencer about a somewhat developmentally delayed American girl touring Italy with her mother and a young Italian boy who falls for her at first sight.
Margaret Anne Florence (yes, that is her last name!) is "Clara," the young lady in question, and her performance is marked by the flashes of immaturity that reveal her character with both subtlety and charm. Her young man is Nicholas Rodriguez, who is remarkable for his ability to sing melodic lines that are operatic in their intensity without making it sound pretentious. Instead it sounds like the flood of emotion filling his heart simply can't be contained. As he sings — mostly in Italian, occasionally in a broken English that is enchanting and even at times wordless in an entrancing flight of fancy — he carries the entire production to lovely heights.
Hollis Resnik is quite good as the girl's mother who has devoted her life to protecting her innocent daughter only to find that she's got to let her make her own transition from child to adult at some point — and that he she might grow a bit herself in the process. It is a very meaty part that requires not only a wide range of acting skills but also a wide vocal range for revealing solos ("Dividing Day" and "The Beauty Is" are both highly demanding.)
Molly Smith's staging facilitates the clean, clear storytelling techniques that marked Lucas' score. Anne Patterson's set design seems a bit simplistic and plain when you enter the theater when there's no curtain drawn over the stage. It is transformed, however, with Adam Larsen's projections, which turn its surfaces into specific locales in Florence and Rome and contribute to the sense of disorientation for a key scene when Clara's mental capacities are first brought into question.
What might seem a light romantic tale becomes something richer at that point and the entire production — which might look like just a light romantic musical at first glance — is revealed as something both sumptuous and sensuous.
***
Brad Hathaway reviews theater in Virginia, Washington and Maryland as well as Broadway and writes about theater for a number of national magazines. He can be reached at Brad@PotomacStages.com.