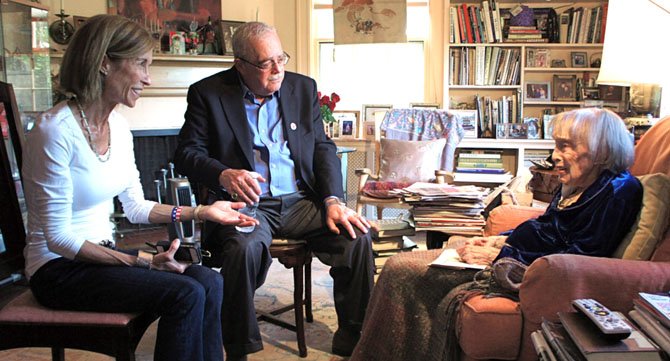 Three days of often-heavy rainfall and a dicey forecast was cause for some concern, but as if on cue, the clouds vanished and the sun shone down on the Yellow Ribbon Fund's picnic on Sunday, July 22, in Clemyjontri Park in McLean. Clemyjontri Park is a special place, with playground equipment and a layout designed to be accessible to all, regardless of mobility, so it was the perfect venue to host an outing for the wounded military personnel and their families that the Yellow Ribbon Fund (YRF) serves. The service members and their families were transported to the Park by special buses from Fort Belvoir, courtesy of the organization.
Eliza Palmer is the YRF's Director of the Family Caregiver Program. She and Director of Events and Volunteers, Ashley Keene, stayed busy all afternoon, setting up, helping to haul the catered food in from the parking lot, directing volunteers and generally keeping things well in hand. Palmer knows from experience that something as simple as an afternoon out with friends and family at play can help bring the word "normal" back into the vocabulary of the families of the men and women still struggling to recover from sometimes life-changing wounds. In 2010, Palmer was at the side of her husband, Capt. Aaron Palmer who was hospitalized after being hit twice by sniper fire while deployed in Afghanistan. A woman walked into the room and said "How about a massage?" Palmer politely refused, explaining that her husband's injuries would not allow so much physical contact at that point. The woman laughed and replied, "No. I meant how about a massage for you."
"I was stunned," said Palmer. "I had been sitting there, feeling so alone, and suddenly I found out that there were others out there who knew what we were going through, and were there to help. And we were luckier than others," she added. "We were local, from Bethesda. So we didn't have to cope with commuting for me to help Aaron. So many of these families are separated when they need to be together the most. But what do you do with kids in school, houses to run?"
Palmer was so moved by the support and friendship that she received from YRF that she began to volunteer for them.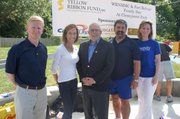 THIRTEEN MONTHS after YRF came to her aid, she accepted the vacated position of Director of the Family Caregivers Program. "The family is also affected when a service member is injured. And sometimes the kids are the most overlooked in the family's struggles. That's one of the ways we can help out. That's why we are here today," said Palmer, "so these folks can play together like any family."
"Isn't it great?" Friends of Clemyjontri President Julie Clemente asked, making a sweeping gesture to encompass all 18.5 acres of the park's sights, sounds, and colors. A bit like a general herself, Clemente is the one who puts people with needs together with those who can help. She certainly rallied her troops to help the Yellow Ribbon Fund pull off the event. A chat with executives from long-time Clemyjontri supporter Capital One Services, and 30 associates appeared in their own "uniforms" to set up, serve, and support. "It wasn't difficult to get volunteers," said Steven DeLuca, Director, Government Relations with Capital One. "Some of the volunteers are vets themselves. We couldn't keep them away."
Along with President Julie Clemente, other members of the Friends of Clemyjontri Park also turned up to help, as did Dave Bowden from the Fairfax County Park Authority. Bowden actually designed one of the Walter Reed Hospital buildings and has volunteered there for years. His presence at the picnic made for a happy merger of two of his main interests - the Park system, and giving back to America's military personnel.
Clemente was also successful in recruiting new sponsor BridgeStreet. Headquartered in Herndon, BridgeStreet is a leading international provider of serviced apartments. BridgeStreet funded the catering, and CEO Sean Worker and several others from the company attended to show their support and learn what else they might do to help in the future.
Several distinguished guests were also in attendance, but unlike their usual appearances, this time there were no speeches and no awards to present. Instead, U.S. Rep. Gerry Connolly (D – 11), Del. Barbara Comstock (R-34), and General and Mrs. Stanley McChrystal (Ret., Army and member of the Yellow Ribbon Fund Board of Directors) quietly wandered among the attendees visiting with the servicemen and their families, joining them for lunch at the picnic tables and thanking the sponsors and volunteers.


DURING THE AFTERNOON, Connolly, Comstock, Gen. McChrystal, were each escorted away from the action by Clemente to meet with Adele Lebowitz. The widow of Mortimer Lebowitz, who founded Mortimer's Department Stores in Washington, D.C in 1933, Mrs. Lebowitz donated the land to the Park Authority in 2000 with the condition that the playground equipment be accessible to all and that the Park had to have a carousel. Primarily through the tireless efforts of the Friends of Clemyjontri Park, those conditions were well met. Mrs. Lebowitz still lives in the family home adjacent to the Park. At 96 years of age, she doesn't get out to see the visitors to the Park she dreamed of and named for her four children, Carolyn, Emily, John, and Petrina, but on special occasions she enjoys a visit to hear how the Park is serving its purpose. She decided that a picnic for the Country's service personnel, wounded in the line of duty, was just one of those occasions. "I am so pleased," she told her guests. "That's just right. The way it should be."
Pictures for publication were not permitted at the picnic, nor were interviews, but there were plenty of family photos taken as dads boarded the Clemyjontri equipment with excited youngsters. One young soldier demonstrated considerable dexterity with a hooked prosthetic hand, delicately holding a plastic circular frame to blow soap bubbles. Others wandered with their families along the Park's connecting tracks made to look like highways. And, of course, there was that carousel, and since it, too, can accommodate wheelchair access, there was no reason for anyone to sit on the sidelines instead of taking that magical ride.
The Yellow Ribbon Fund organizers hope that publicity of events like the picnic in Clemyjontri Park will spread the word that they are ready to fulfill their mission to serve the injured returning from service. Their website, www.yellowribbonfund.org, provides information on the many practical services and assistance they offer, as well as how members of the public can show their gratitude to America's heroes.