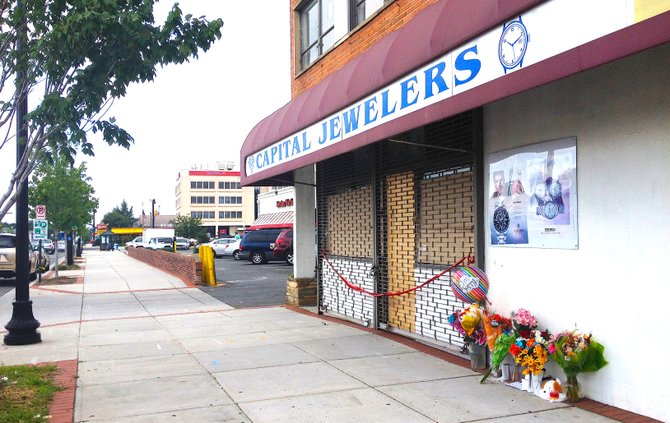 Map
Scene of Shooting
Scene of Shooting
Neighbors along Columbia Pike say last weekend's deadly armed robbery has forced them to reconsider this stretch of the popular thoroughfare, a dense cluster of strip malls and office buildings. What was once a sleepy suburban stretch has now become a crime scene as the Arlington Police Department searches for the killer.
"I usually work alone after hours two or three times a week," said Rosmery Mazariegos, a customer service representative with Nationwide Insurance. "Now I don't think I'll be able to be here by myself anymore."
Arlington police say Capital Jewelers owner Tommy Kin Mo Wong, 54 of Herndon, was shot and killed at about 4 p.m. Friday, July 27. At press time, no arrests have been made in the case although the police have released security camera photos in an effort to get help from the public to track down a suspect. Police spokesman Dustin Sternbeck said that officials have yet to hear any responses that have helped the investigation.
"We haven't had any credible response yet," said Sternbeck. "But this is an ongoing investigation, and we are working with surrounding law-enforcement agencies in Washington and Fairfax and Alexandria."
THE MURDER is particularly shocking for Arlington, which has seen historically low crime rates in recent years. Crime statistics show that Arlington went 28 months without a murder until this month, when two murders happened back to back. Three days before the jewelry store murder, an apparent murder-suicide became the county's first murder in two years. For many neighbors, the thought of a murder happening on the block was unthinkable.
"When I saw the ambulance and the police cruisers, I assumed it was some drunk person lying in the road," said Ari Tajalli, owner of Pines of Italy. "That's what you assume in this neighborhood. Or at least that's what we used to assume."
Many people who live and work along Columbia Pike said they are now much more concerned about the threat of violent crime. Many people did not want to speak on the record, including those most concerned about crime. Others said that violent crime was more of a possibility at a jewelry store because the high-value nature of the inventory.
"What are they going to steal from us, a computer? An oven?" asked Atila Mermer, Virgin Pizza owner and manger. "This is not a dangerous place."
AS POLICE INVESTIGATORS conduct an inventory of the jewerly store, neighbors wait for some kind of announcement of an arrest. Until police have a suspect, many Columbia Pike workers and residents say, the threat of last weekend's crime will remain an unsettling feature of their neighborhood.
"My customers say that nothing like this has ever happened here before," said David Ren, owner of a nearby Chinese restaurant. "Everybody is scared."