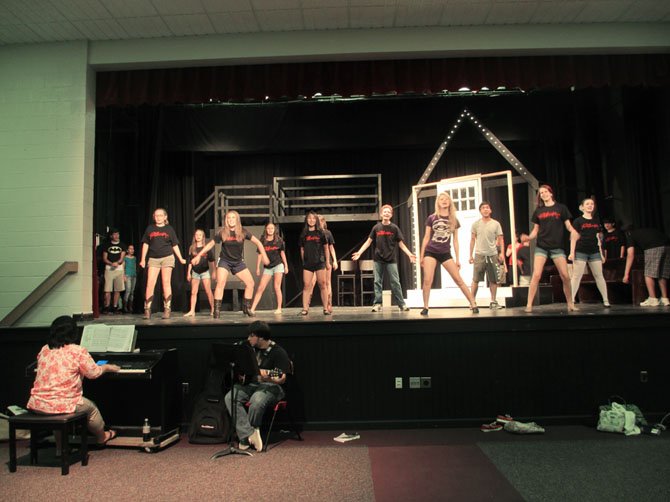 "Footloose" hit the big screen with a bang in 1984. More than 15 years later, it opened on Broadway. Now, "Footloose" comes to Vienna.
While the Vienna production may not make "stars" of its cast of Vienna Youth Players [VYP], it will light up the Vienna Community Center with lively dance and rousing music. Opening on Aug. 3 and running through four weekend performances, "Footloose" is adapted by local voice coach Babs Dyer.
"We had a rare opportunity to do a heavy dance show," said Dyer, remarking on the four volunteer choreographers who came forward to make the musical production work. "We have the best talent from a wide community of young thespians."
"The music is lively and foot-tapping, with a little bit of country and a little bit of rock n' roll, along with a bit of gospel," said Dyer.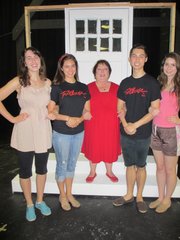 ALUMNI AND CURRENT STUDENTS from James Madison High School, Morgan Miller, Daxx Wieser, Selena DuBar and Nicole Pradas, choreographed the dance routines in VYP's production. "Footloose" went into rehearsal on June 6.
"It was challenging to do choreography and be a lead," said senior Morgan Miller, who plays Ariel. Morgan said she has been dancing "pretty-much" her whole life. "We all have different styles."
Christina Foerster, a singer who will be a senior at George C. Marshall High School, was most challenged by the dancing; she calls herself a singer foremost.
For Wieser, the transition to choreography from acting arose last school year. "This was easier to do than in high school," he said. "There's better communication and lots of help from the other choreographers.
The leading character, played by Daxx Wieser of Vienna, moves from hip Chicago to a repressed small town in the Midwest where dancing is banned. This was before the days when people turned to the Supreme Court for interpretation of Constitutional rights.
There's music, dance, romance, drama, and more music and dance before the minister who single-handedly banned dancing is swayed by circumstances – and his family – to lift the ban, in time for the upcoming prom.
The royalty script for VYP's "Footloose" is from the play, not the movie. Dyer calls it a "really fun show."
With more than 20 speaking roles, as well as an ensemble cast, Dyer's production of "Footloose" brings in a community of actors, singers and dancers aged 11 to 18. Most of the cast members have performed in previous VYP productions. Dyer teaches at Fairfax County's Academy for Communication and the Arts, in its musical theatre program.
VYP is sponsored by the Town of Vienna Department of Parks and Recreation.
Producer JoEtte Fletcher's son got his start with VYP; he's now a New York City actor.
"Babs was his mentor and his inspiration," said Fletcher. "We're very fortunate to have Babs in Vienna."


THE ACTORS are at-ease and confident during rehearsals. They understand stage jargon and are quick on the up-take. And they all get along well, it appears, chatting before rehearsal and, even, helping one another stretch their limbs before dancing.
"It's a very enjoyable show to watch," said Foerster. "There's a lot of energy and incredible talent. It's a fun show."
Miller concurs. "It's been really fun and the cast is great."
"Footloose" plays on Aug. 3, 4, 10 and 11 at 7:30 p.m., and on Aug. 12, at 1 p.m. The production is performed at the Vienna Community Center at 120 Cherry Street, Vienna. Tickets are priced at $14 for adults and $12 for students and seniors. Call 703-255-6360 for more information.