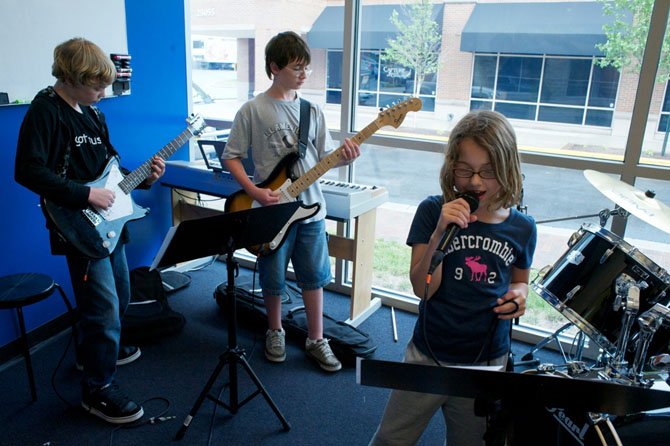 Bach to Rock (B2R), America's music school for students of all ages, announced on July 18 it will re-locate its current school in Herndon, located at 465 Herndon Parkway, to a larger facility at Worldgate Centre located 13009 Worldgate Drive later this year. The new location will accommodate not only a school, but B2R's first hands-on franchisee training facility to provide both new and existing franchise owners with cutting-edge training and support.
The new 4,000 square foot training facility will have the very latest in technology, computer and software availability and traditional instrumental instruction. Franchisees will be trained on the B2R method, management and administration of a school, as well as its proprietary web-based management system and proven advertising and marketing programs, all designed to position them for success. The school also features Beat Refinery, the Mid-Atlantic's premier DJ school dedicated to teaching every aspect of the craft, combining traditional methods with the latest technology for aspiring DJs.
Co-founded by a Juilliard-trained middle school teacher, B2R transformed music instruction five years ago into a team sport by coupling rigorous individual instruction with "jam sessions" that keep students motivated by playing in a group. The first corporate-owned location in Bethesda, Md. opened in 2007; B2R now has six corporate-owned schools, including two in Maryland and four in Virginia. Earlier this summer, B2R announced an agreement with its first franchisor, Amplified Capital Partners, LLC, to open a chain of Bach to Rock schools in New York and Connecticut. The first location is planned to open in New York in the fall of 2012.
Bach to Rock is currently seeking candidates to open franchise locations in the Mid-Atlantic region, from New York to Florida, and plans to broaden its efforts into additional markets across the country. To learn more about ownership opportunities with Bach to Rock, contact Ralph Rillon, vice president of franchise development, toll-free at 855-B2R-7570 (1-855-227-7570) and franchise@b2rmusic.com.com, or visit www.b2rmusic.com/franchise.