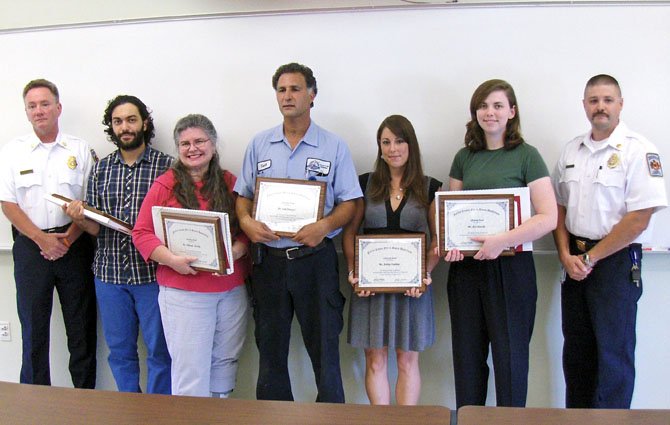 Centreville — When a wheelchair-bound woman was rescued recently from her burning Centreville townhouse, an off-duty firefighter and a bevy of civilians came to her rescue. For their bravery, they were honored by the Fairfax County Fire and Rescue Department with lifesaving awards.
In a July 19 ceremony, Deputy Fire Chief James Walsh presented Said Ben Ayed, Al Hussein Ahmed Wanas, Zoe Shankle, Deborah Shankle and Ashley Osterday with certificates written by county Fire Chief Ronald Mastin, thanking them for their "heroic actions."
"It takes a lot of character to do what you did that day, and it speaks volumes about you," said Walsh. "Thank you for showing up and doing what you did — it helped that lady live another day."
The incident occurred the afternoon of June 22 in the Singleton's Grove community; damage was estimated at $160,000. Investigators said the blaze was accidental, ignited when a "passerby improperly discarded smoking materials into the mulch" near the building.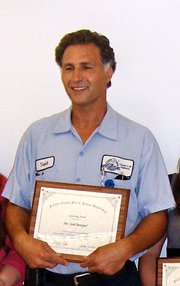 The day before, Ben Ayed, a 13-year county employee — the last eight with the Stormwater Management department — received a county Champion Award for his work on an environmental-service project. Part of it was a four-hour leave, so he used it June 22.
He was driving home to Little Rocky Run, when he pulled over to chat with a friend in his neighborhood. Then, smelling smoke, he checked it out and discovered it coming from behind a townhouse on Hoskins Hollow Circle. He told his friend to call 911 and he went toward the smoke.
"I wanted to see if anyone was in there," said Ben Ayed. "Half the backyard fence was on fire and the house was, too. Other people followed me, but nobody wanted to get inside because it wasn't safe. So I kicked in the front door and went inside."
He saw black smoke, but no people on the first floor. "Then I saw another unit on the second level was already on fire," he said. That's when Wanas, Osterday and Deborah and Zoe Shankle joined him in the home.
"The kitchen was on fire and I saw an elderly woman lying in a hospital bed, with an I.V. and tubes, in the living room," said Ben Ayed. "She said, 'Please save my daughter upstairs — let me die.' Her [grown] daughter was exhausted from a trip and was sleeping, so I grabbed a vase and threw it at her door to attract her attention."
She came out of her room, while Ben Ayed returned to the woman downstairs and got her into her wheelchair. "Deborah helped me get her out of the house," he said. "She asked her almost son-in-law, Al Hussein, who was outside, to help."
A dog was also in the home, and Osterday saved it from the fire. Zoe ran through the townhouse to see if anyone else was there and got the dog's leash while checking. Then Fire Capt. Bill Moreland — who'd also seen the smoke, called 911 and headed to the site — arrived and assisted the others in rescuing the elderly woman.
Through it all, Ben Ayed said he didn't worry about his own safety. "I was just so grateful to be at the right place at the right moment," he said. "Sometimes God gives you strength you don't know you have."
As for the lifesaving award, he said, "It felt good to be appreciated. The reward is that it's nice for the county and Fire Department to recognize us to encourage other people to get involved and not stand back when they're needed." Originally from Tunisia, but now an American citizen, Ben Ayed added, "This award made me feel proud to be an American and see how we appreciate people's actions."